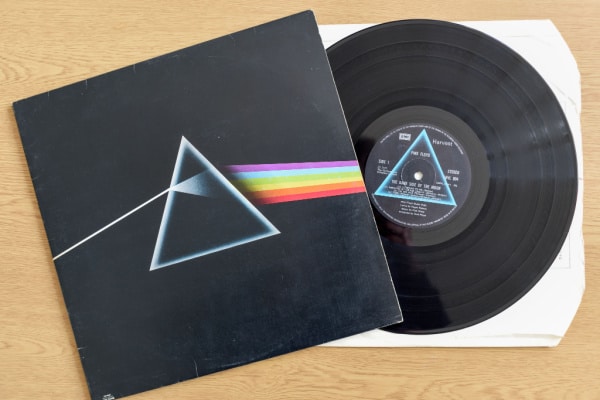 In the latest edition of The 50 Albums Which Changed Your Life on Nova, we will be exploring the albums 'Dark Side Of The Moon' from Pink Floyd, 'Synchronicity' by the Police, along with David Bowie's album 'The Rise And Fall Of Ziggy Stardust'.
'Dark Side Of The Moon' – Pink Floyd
Lovers of Pink Floyd's 'Dark Side Of The Moon' can tune into Nova from 10am, and can listen to tracks like 'Money', 'Us And Them' and 'Great Gig In The Sky'.
Released in 1973, work for this album began in Abbey Studios a year earlier, a studio where the Beatles did a lot of their best work in.
The record also saw Pink Floyd work closely with engineer Alan Parsons, who had also previously worked with the Beatles.
The album features an abundance unconventional sounds, from alarm clocks to cash registers.
'Dark Side Of The Moon' still stands one of the biggest selling albums ever, having spent 736 weeks in the Billboard Charts between March 1973 and July 1988. The album itself arrived on the music shelves of the US on 1 March 1973, and 16 March in the UK.
The album is also the 7th biggest selling record in the UK, and the most successful record never to reach top spot in the charts.
Despite not reaching the summit, the album is very much one of the most acclaimed rock albums of all time. Tune in at 10am to find out why, right here on Nova!
'Synchronicity' – The Police
Coming up at 1pm, you can tune into The Police's fifth and final studio album, which includes five hit singles.
One such track includes 'Every Breath You Take', which recently surpassed one billion YouTube views.
Other tracks you will enjoy on this trip down the Police memory lane also include 'Wrapped Around Your Finger' and 'King Of Pain'.
In what was a follow up their 1981 album 'Ghost In The City', 'Synchronicity' turned out to be the Police's fifth and final studio album, as lead singer Sting left to subsequently pursue a solo career.
While Sting reunited with Stewart Copeland and Andy Summers for a reunion tour in 2007, he also sold the publishing rights to his entire back catalogue earlier this year.
'The Rise And Fall Of Ziggy Stardust'– David Bowie
Released by the late singer in 1972, music lovers will be able to enjoy airplay from this classic Bowie masterpiece album at 4pm, right here on Nova.
Tune in to listen to tracks such as 'Starman', 'Ziggy Stardust' and 'Rock 'n' Roll'.
The album was subsequently certified Gold in the US, and Platinum twice in the UK.
Celebrating the 50th anniversary, the album received two special vinyl releases last year to mark the occasion.
On top of this, handwritten lyrics for the track 'Starman' were also sold at an auction. More on this here.