Beer and food lovers rejoice!
The legendary three day brew and BBQ festival GUINNESS X MEATOPIA is back, featuring never before tasted dishes from world-renowned chefs paired with exciting beers.
Returning for its third year on 5, 6 and 7 July 2019, GUINNESS X MEATOPIA the epic London based fired-up food carnival that originated in New York will transform the Guinness Open Gate Brewery into a mecca devoted to beer, food, fire, and music.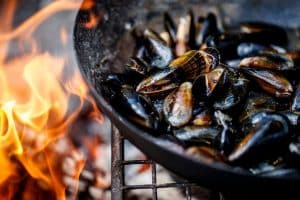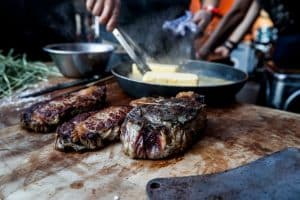 A small batch of early bird tickets are available to buy NOW HERE at the special ticket price of €49.50 and includes five unique dishes paired with five perfectly matched taster beers, and a choice of a pint of one of the beers available only for the weekend.
The offer is running until Monday, 1 April 2019 and once the early birds tickets are gone, they are gone, so don't hang around! Full price tickets starting at €59.50 will then be released.
Guinness Open Gate Brewery's Head Brewer, Peter Simpson commented, "At the Guinness Open Gate we love beer, it's our thing, but we also really love food! GUINNESS X MEATOPIA gives us an amazing opportunity to collaborate and create new beers with some of the world's best live fire chefs. This year there is going to be some sensational beer and food pairings and definitely some surprises!"
Signature dishes grilled or smoked over sustainable wood and charcoal, will be created at GUINNESS X MEATOPIA by some of the world's best live fire chefs and will be matched to the beers brewed especially for the culinary feast. Bringing out the best of the flavours and tastes on offer, Guinness Draught and the exciting beers from the Open Gate Brewery will also find themselves paired with some of these never been tasted before dishes.
The Meatopia Cutting Room Stage was on fire last year and this year sees its welcomed return. Festival-goers can chat with and learn from the most passionate connoisseurs from the worlds of beer, food, fire and flavour. Then as day turns to night, there will be an eclectic programme of live music and entertainment.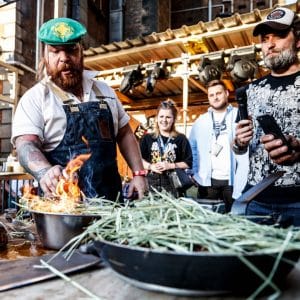 GUINNESS X MEATOPIA is a strictly over 18s event that will take place at the Guinness Open Gate Brewery in Dublin, on Friday 5 July 2019 (6pm to 10pm), Saturday 6 July 2019 (2pm to 10pm) and Sunday 7 July 2019 (1pm to 7pm).
Click here to hear Ruth Scott chatting with Esther Choi, New York resident and owner of mŏkbar and ms.yoo who brought her Korean influence to the grill at the 2018 GUINNESS X MEATOPIA.
Visit www.drinkaware.ie