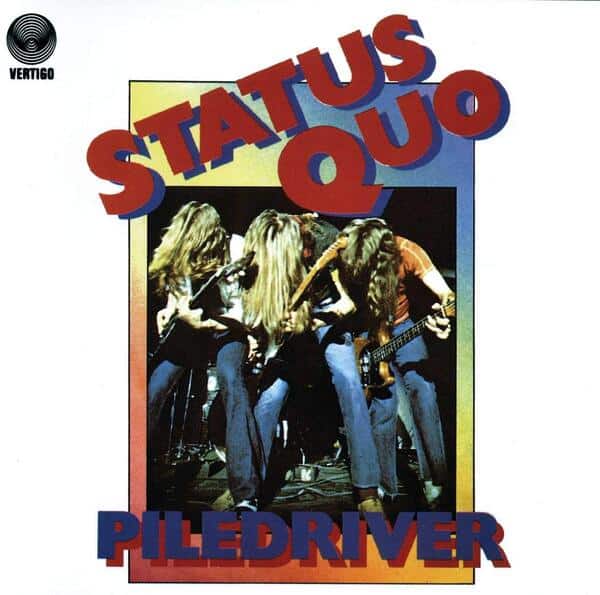 Tonight (February 7th) on the world famous Classic Album at Midnight on Radio Nova we're playing Status Quo's Piledriver.
The album is presented in full with no commercials or interruptions.
Founded as The Scorpions by schoolmates Francis Rossi and Alan Lancaster in London in 1962, the band would evolve into The Status Quo in 1967 before settling on simply Status Quo in 1969.
Embracing the psychedelic era, the band had its first hit in 1967 with the trippy Pictures of Matchstick Men, which reached number seven in the UK and would be their only Top 40 hit in the US.
In the early '70s, with psychedelia becoming passé, Status Quo changed their sound to a more hard rock, blues influenced style. Their first two '70s albums – Ma Kelly's Greasy Spoon and Dog of Two Head – fared poorly commercially, and so the band left their record label Pye and signed with the more recognised Vertigo Records, which was at the forefront of hard rock and prog rock during this era.
The band decided their fifth album, Piledriver, would be produced by themselves, as they had previously struggled to translate their raucous live sound to the studio. On the Pye albums, the producers had complained about the volume of Status Quo's playing, which caused distortion and overloaded their recording desks. For Piledriver, the band brought their live gear into London's IBC Studios. This allowed them to record live at the levels they would play on stage.
Fittingly, given its title, Piledriver sees Status Quo begin to evolve the heavy, hard-driving sound they would come to be known for. Guitarist Rick Parfitt was instrumental in developing Status Quo's sound, which came to be known as "shuffle." Piledriver's opening track, Don't Waste My Time, is a classic example of the shuffle style. Alternating with the heavier tracks are blues ballads like Unspoken Words, which could almost be mistaken for early Fleetwood Mac, and a cover of The Doors' Roadhouse Blues.
At the time of Piledriver, Status Quo were made up of Francis Rossi (guitar, vocals), Rick Parfitt (guitar, keyboards, vocals), Alan Lancaster (bass, vocals, 12-string acoustic guitar) and John Coghlan (drums). Also collaborating on the Roadhouse Blues cover were harmonica player Bob Young and pianist Jimmy Horowitz.
In its original release, Piledriver features eight tracks. On Side A are Don't Waste My Time; Oh Baby; A Year; and Unspoken Words. On Side B are Big Fat Mama; Paper Plane; All the Reasons; and Roadhouse Blues.
Released on December 15th 1972, Piledriver peaked at number five on the UK chart, where it would spend a total of 37 weeks. It was preceded by the release of Paper Plane as a single, which reached number eight in the UK. Paper Plane was the first of a remarkable 33 consecutive Top 40 hits on the UK singles chart. Its b-side, Softer Ride, would make it onto the subsequent album, 1973's Hello!.
Piledriver can be viewed as the album that course corrected Status Quo and set them on the path to rock stardom.
You can hear it in full at midnight tonight on Radio Nova.