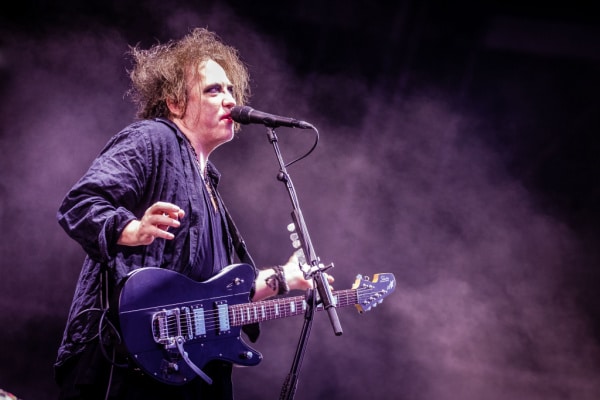 Kicking off their World Tour last night (October 6), the Cure packed a lot in debuting two new songs, as well as welcoming keyboardist and guitarist Perry Bamonte back to the band.
Taking place in Riga, Latvia the Cure kicked off the first of a myriad of shows as part of a long run of 2022 dates.
They were joined on stage by the returning Bamonte, who had previously served as a band member of the Cure from 1990 to 2005.
Along with Bamonte, the band also performed alongside their now regular touring partners The Twilight Sad, a band who are also a firm favourite of frontman Robert Smith.
The Cure Debut New Tracks
During their 25 song set, the Cure performed two new tracks from what fans assume is their latest album 'Songs Of A Lost World'.
Beginning this set, the band performed a new track called 'Alone', which saw lead singer Robert Smith begin with the line 'This is the end of every song we sing'.
Following the opening set, which also saw Robert Smith and co peform classic tracks 'Fascination Street', 'Trust', 'Pictures Of You', and 'In Between Days'. 
Following this, the Cure performed their second brand new track 'Endsong'. This song saw Smith lament how 'it's all gone' and it was repeatedly in 'no hopes, no dreams, no love – I don't belong'.
The Cure also performed other songs including 'Close To Me', 'Plainsong', 'Boys Don't Cry', and 'Friday I'm In Love'.
Check out the setlist in full below.
'Alone' (Debut)
'Pictures of You'
'Closedown'
'A Night Like This'
'Lovesong'
'Trust'
'Burn'
'Fascination Street'
'Push'
'In Between Days'
'Play for Today'
'A Forest'
'Want'
'Shake Dog Shake'
'39'
'From the Edge of the Deep Green Sea'
'Endsong' (Debut)
Encore:
'Plainsong'
'Disintegration'
Encore 2:
'Lullaby'
'Close to Me'
'The Walk'
'Friday I'm in Love'
'Just Like Heaven'
'Boys Don't Cry'
Today, the Cure have also released a 30th anniversary edition of their 'Wish' album. More on this from Nova here.
The Cure's Roger O'Donnell Is Working On His First Film Score