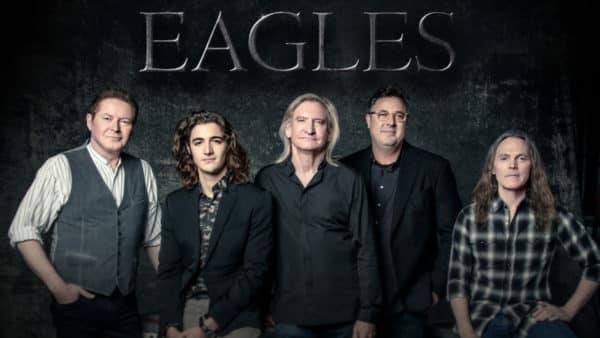 The Eagles' live album from 2000 "Millennium Concert", is availble to buy on vinyl for the first time. It is due for release this Friday! Pre-order here.
This set contains 12 tracks, featuring Don Henley, Joe Walsh, Glenn Frey, Timothy B Schmidt along with Don Felder. It is also the last performance that features Felder before the guitarist's departure in 2001.
The Millennium Concert was orginally released as part of the Eagles' box set collection, "Selected Works 1979-1999″ from 2000. It was also included in the Legacy collection of 2018.
These sets were never released on vinyl before, and the Mellennium Concert was never made available for purchase, until now.
You can check out the Eagles performing "The Best Of My Love" from that Millenium Concert here. Check out their hit "Hotel California" here.
The Eagles' live album reissues and touring
As it stands, the band are to start touring again on August 28 in London. The US part of their postponed Hotel California Tour is to start on 16 September in Denver.
The Eagles are also reissuing their 1980 live record "Eagles Live", along with their studio record "Long Out Of Eden" on April 2 on vinyl along with the "Millennium Concert".
Last year, the Eagles released "Live From The Forum MXVIII", which was their first album since Glenn Frey's death in 2016. It was also the first record to feature Glenn's son Deacon Frey and Vince Gill as band members.