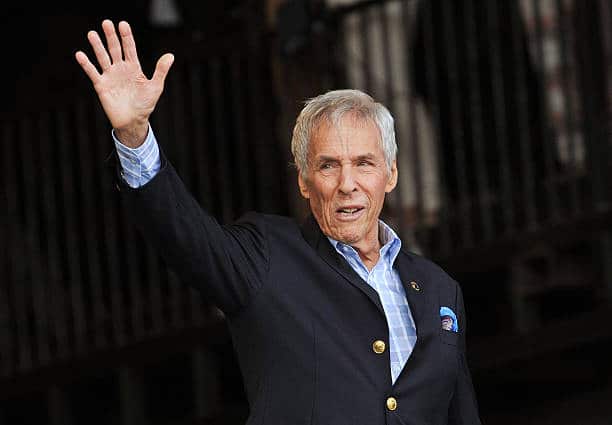 The gifted and popular Oscar winning composer Burt Bacharach who thrilled millions with unforgettable melodies with dozens and dozens AND dozens of hits, has died at 94.
The popular American songbook composer died on Wednesday at his home in Los Angeles from natural causes, according to his publicist Tina Brausam on Thursday.
Over eight decades, only a select handful, including Lennon and McCartney could rival his genius for supremely catchy songs that remained performed, played and hummed long after they were written.
His music was heard everywhere from movie soundtracks to home stereo systems, whether its "Alfie" and "I Say a Little Prayer" or "I'll Never Fall in Love Again" and "This Guy's in Love with You."
His favourite interpreter was Dionne Warwick, but Bacharach, also created prime material for Aretha Franklin, Dusty Springfield, Tom Jones and many others.
Elvis Presley, the Beatles and Frank Sinatra were among the countless artists who covered his songs, with more recent performers who sung or sampled him including White Stripes, Twista and Ashanti.
"Walk On By" alone was covered by everyone from Warwick and Isaac Hayes to the British punk band the Stranglers and Cyndi Lauper.
Bacharach was an innovator while his career seemed to run parallel to the rock era, as rock composers appreciated the depth of his seemingly old-fashioned sensibility.
"The shorthand version of him is that he's something to do with easy listening," Elvis Costello, who wrote the 1998 album "Painted from Memory" with Bacharach, said in a 2018 interview with The Associated Press.
He was an eight-time Grammy winner, a prize-winning Broadway composer for "Promises, Promises" and a three-time Oscar winner.
He received two Academy Awards in 1970, for the score of "Butch Cassidy and the Sundance Kid" and for the song "Raindrops Keep Fallin' on My Head".
In 1982, he and his then-wife, lyricist Carole Bayer Sager, won Oscars for "Best That You Can Do," the theme from "Arthur.
His other movie soundtracks included "What's New, Pussycat?", "Alfie" and the 1967 James Bond spoof "Casino Royale."
Bacharach was well rewarded, and well connected. He was married to actor Angie Dickinson from 1965-80, and Sager, his wife from 1982-1991, among his four marriages.
He reached a new generation of listeners in the 1990s with the help of Elvis Costello and others.
In the 21st century, he was still testing new ground, writing his own lyrics and recording with rapper Dr. Dre.
He was born in Kansas City, Missouri, but soon moved to New York. While still a minor, he would sneak into jazz clubs with a fake ID to hear greats such as Dizzy Gillespie and Count Basie.
"They were just so incredibly exciting that all of a sudden, I got into music in a way I never had before," he recalled in the memoir "Anyone Who Had a Heart," published in 2013. "What I heard in those clubs turned my head around."
He met his ideal songwriter partner — Hal David in the 1950's. In an office in Broadway's Brill Building, they produced their first million-seller, "Magic Moments," in 1958 for Perry Como.
In 1962, they and Dionne Warwick, produced hit after hit, starting with "Don't Make Me Over" and continuing with "Walk on By," "I Say a Little Prayer," "Do You Know the Way to San Jose," "Trains and Boats and Planes," "Anyone Who Had a Heart" to name but a handful.
The partnership ended badly with the dismal failure of a 1973 musical remake of "Lost Horizon." Bacharach became so depressed he isolated himself and refused to work.
"I didn't want to write with Hal or anybody," he told the AP in 2004. Nor did he want to fulfill a commitment to record Warwick. She and David both sued him.
Bacharach and David eventually reconciled. When David died in 2012, Bacharach praised him for writing lyrics "like a miniature movie."
Meanwhile, he kept working, vowing never to retire, always believing that a good song could make a difference.
"Music softens the heart, makes you feel something if it's good, brings in emotion that you might not have felt before," he told the AP in 2018.
"It's a very powerful thing if you're able to do to it, if you have it in your heart to do something like that."