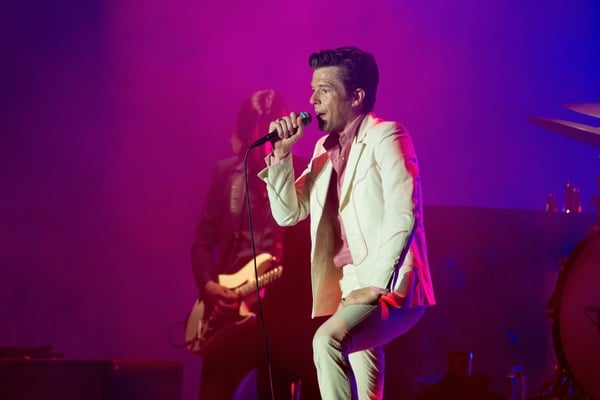 Would you like to listen to the article instead of reading it?
According to a bookies, The Killers are favourites to headline next year's Super Bowl Half Time Show.
This was shared by MyBookie, who have hinted that the 'Mr Brightside' hitmakers are the favourites to headline the show at -110 odds, giving them over 52% chance of being picked for the iconic event.
The bookies have named U2 as second favourites with +150 odds, with Taylor Swift and Imagine Dragons at +200 odds.
Foo Fighters complete the top 5, currently standing at +250 odds, while there remains a huge doubt about Swift's participation at the Super Bowl, with the singer due to perform in Japan within the same time frame as the Half Time Show, as part of her tour (February 7-10).
A Killer Show
The Killers' favourites tag would appear to make sense, with the Super Bowl taking place in their hometown of Las Vegas for the first time. It certainly ties in with a local desire to see a local act on stage.
Given the success and fame earned by the Killers since their formation in 2001, surely this would go down well with locals, and music lovers everywhere.
However, it is worth noting that the desire of the Super Bowl organisers to book a rock band for the event, has seemingly waned in recent years.
In 2019, Maroon 5 performed at the show, with Coldplay taking to the stage in 2016, while Red Hot Chilli Peppers teamed up with Bruno Mars in 2014.
Recent years has seen acts like Rhianna perform at the Half Time Show.
Watch this space!
The Killers Issue Apology
Earlier this week, the Killers issued an apology as they were booed at a recent gig in Georgia, for bringing a Russian fan onto the stage during their live set.
The fan was invited onto the stage by the band's lead singer Brandon Flowers to perform their track 'For Reasons Unknown'.
This led to a cacophony of boos from the locals, amid ongoing tensions between the countries, ever since Russia's invasion of Georgia in 2008. They still occupy 20% of the latter.
An influx of Russian people have also arrived into Georgia, following Russia's invasion of Ukraine last year.
Flowers told the audience, "We don't know the etiquette of this land but this guy's a Russian. You OK with a Russian coming up here?", which led to a chorus of boos from the audience.
The band ultimately apologised, insisting that they did not intend to cause any offence. More on this from Nova here.