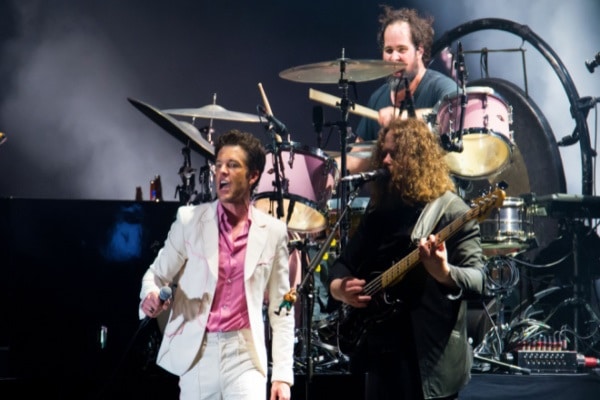 Would you like to listen to the article instead of reading it?
The Killers have issued an apology, after being booed for inviting a Russian fan on stage at a concert in Georgia this week.
The band were performing in Batumi's Black Sea Arena in the country, as part of their tour, supporting their latest albums, 'Imploding The Mirage', and 'Pressure Machine'.
Check out their dates here.
The Killers Issue Apology
Halfway through their live set in Georgia, The Killers frontman Brandon Flowers invited a Russian fan onto the stage for a live performance of their track 'For Reasons Unknown', something which the fans were quick to vent their anger at.
There has been ongoing conflict between the two countries, following Russia's invasion of Georgia in 2008, with the former still occupying 20% of the latter.
Following Russia's invasion of Ukraine last year, there has been an influx of Russian people coming into to Georgia, with some Russians facing a huge backlash, according to reports.
Introducing the fan to the stage, Brandon Flowers also told the audience, "We don't know the etiquette of this land but this guy's a Russian. You OK with a Russian coming up here?", which led to a chorus of boos from the audience.
You can check out this incident below.
Part of the audience left concert of @thekillers at the Black Sea Arena in Georgia in protest after amid booing the group's frontman who invited a Russian drummer to the stage and said everyone are "brothers and sisters" pic.twitter.com/mhtklWIOKf

— Formula NEWS | English (@FormulaGe) August 15, 2023
After they finished the song, Flowers later spoke to the crowd.
He said, "You can't recognise if someone's your brother? He's not your brother? We all separate on the borders of our countries? … Am I not your brother, being from America?".
Urging the crowd to celebrate, The Killers singer also added, "that we're here together". "I don't want it to turn ugly. And I see you as my brothers and my sisters".
Despite continuing their set, some fans reportedly left the concert in protest.
Crowds abandon @thekillers concert in Georgia as its frontman invited a Russian drummer to the stage and insisted on performing with him despite protest from the crowd. The crowd then erupted in more protest with its significant part quitting the concert pic.twitter.com/oPiaicuUzk

— Formula NEWS | English (@FormulaGe) August 15, 2023
"did not mean to upset anyone"
After the show, the Killers also issued a statement, apologising. They insisted that they "did not mean to upset anyone".
"Good people of Georgia, it was never our intention to offend anyone!", the band wrote.
They continued, "We have a longstanding tradition of inviting people to play drums and it seemed from the stage that the initial response from the crowd indicated that they were okay with tonight's audience participation member coming onstage with us".
"We recognize that a comment, meant to suggest that all of the Killers' audience and fans are 'brothers and sisters' could be misconstrued. We did not mean to upset anyone and we apologize".
The band also added, "We stand with you and hope to return soon".
— The Killers (@thekillers) August 15, 2023
The Killers' next show takes place at Bratislava's Lovestream Festival on Friday (August 18).
Irish fans will also have a chance to see Flowers and co at this year's Electric Picnic Festival.
Last year, the band also introduced Bruce Springsteen to the stage during a show at Madison Square Garden. Find out more here.