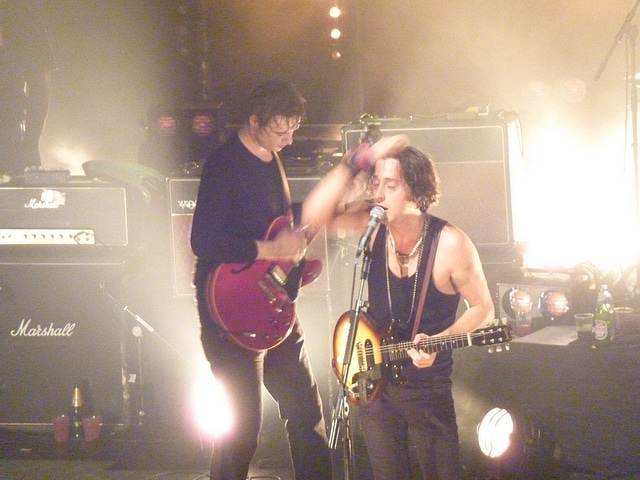 The likely lads Pete Doherty and Carl Barat will reunite once again, The Libertines are coming to Dublin this summer.
The indie rockers will arrive in Ireland for the first time in nearly a decade, playing the 3Arena (formerly o2) on Thursday July 9th.
The Libertines are planning to release a new album this year. Guitarist Carl Barat says that he and Doherty have made major progress on the new record, revealing that the songwriting duo have penned five new songs together for the band's third album.
Pete recently completed his treatment at a Thai rehab facility. He left the Hope Rehab centre in Bangkok at the beginning of this year, after being treated for his well publicised heroin addiction.
The singer spoke to Noisey about some of the new material he'd written while in rehab. "The thing is it's quite a tranquil place, so I don't like to make too much noise," said Doherty.
"But I'll say that I have rediscovered a few facets that have come back to life since I've been here and one of them is just enjoying playing guitar and learning songs I used to know backwards and inside out. Like old Lindisfarne and Stone Roses songs and just taking them and just shifting the chords about."
"I've come up with some good riffs too. Like simple bass lines and I'm trying to get this warlord's daughter to play drums for me but she's off the radar at the moment. So hopefully we'll have some new ideas when Carl next bounds into view in his bandana and leathers. A man who swore he'd never wear flip-flops! Although he doesn't call them flip flops he calls them 'sliders'."
Speaking about the upcoming LP, Barat said: "We've only done bits and bobs on tour. We were both reminding each other of scores of tunes that we'd forgotten that had never seen the light of day. But Plan A is to write new things. There's about five new tunes on the work bench at this stage and that's just from having been in each other's company, not even sitting down to write. One's called 'Woke Up Again', but that's a working title."
The English rockers also unveiled a new short 'visual history' film about the band's lazarus like comeback, charting their progression and their most recent tour.
The Libertines arrive in Dublin on Thursday July 9th to play the 3Arena. Tickets €49.50 incl. booking fee are on sale this Friday at 9am from Ticketmaster outlets and online at www.ticketmaster.ie