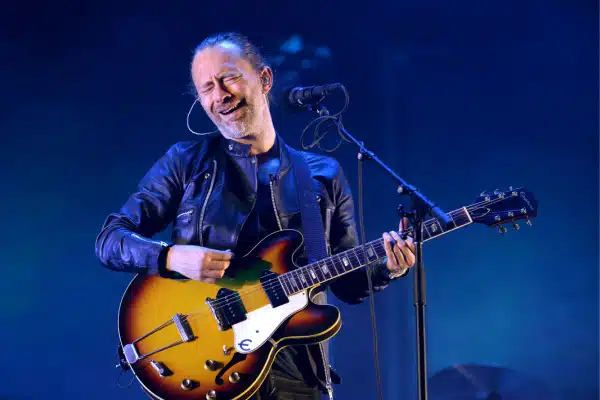 Would you like to listen to the article instead of reading it?
Thom Yorke has explained how he has taken to embracing having a voice like Neil Young's.
With the help of Neil Young, and Jeff Buckley, Radiohead frontman Thom Yorke has claimed that he has learned to hone in on his signature sound.
Having always felt that his sound was "uncomfortably high or awkward", Yorke once created a demo to a magazine, which earned rave reviews.
In fact one person responded to this demo by asking, "'Who is this guy? He sounds just like Neil Young!'".
Yorke was clearly taken aback by this review.
"I went, 'Who's Neil Young?'", Yorke revealed. "I'd never even heard Neil Young, so I went out and bought 'After The Gold Rush' and was like, 'Wow! It's OK to sound like that?' Because he's slightly higher than me, but there was a softness and a naiveté in the voice which I was always trying to hide. Then, it was like, 'Oh, maybe I don't need to hide it".
"It's OK to do that?"
Thom Yorke also revealed that he paid a visit to the late Jeff Buckley, who taught him to get comfortable in his own skin with his singing vocals.
"When we were doing the second record ['The Bends'], I went to see Jeff Buckley before he died", explained Yorke.
"Again, that was one of those, 'It's OK to do that?' And it reminded me of this vulnerable part of me that I was choosing to hide. I remember I recorded 'Fake Plastic Trees' on my own to begin with", the singer added.
"Then, when we came together to listen to it, the others said, 'We'll use that!' and I was, 'No, no, we can't use that, it's too vulnerable. That's too much me".
When asked about how he keeps his vocals in check these days, Thom Yorke said that routine entails several vocal warmups, as well as bringing a chiropractor on tour, to help to re-align his spine, whenever his vocals feel stiff.
Last year, Yorke shared his track '5.17', which was used for the final season of 'Peaky Blinders'. Check that out and Nova's report here.