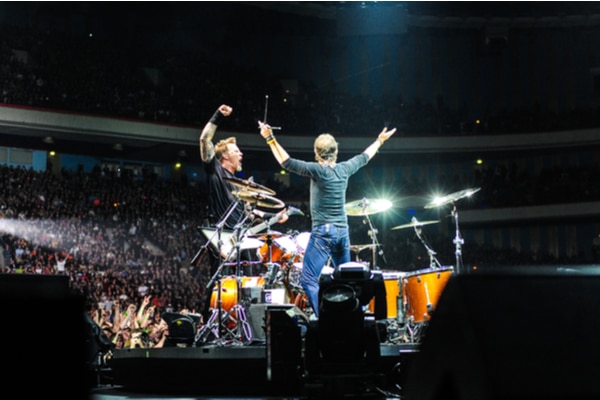 Metallica's former psychotherapist and performance enhancement coach, Phil Towle, has opened up on the time Lars Ulrich famously confronted frontman, James Hetfield. He believes that the infamous, expletive-filled confrontation during the making of Metallica's St. Anger album was "Scary but necessary". Speaking in an exclusive interview in Metal Hammer's special 'Metallica 40' celebration issue, Towle insists, "Lars was not being an asshole".
At the time of recording the band's eighth studio album, things came to a halt while Hetfield attended rehab. Upon his return, Metallica's frontman brought in a set of proposals for new ground rules, which the band needed to sign off on collectively before he could re-commit to the project.
The discussions between members of the band were often heated, at best, and everything had been captured vividly in the 2003 documentary, Some Kind Of Monster. One such argument concluded with an extremely frustrated Lars Ulrich, who screamed "F***" directly into Hetfield's face. The documentary's co-director, Joe Berlinger, labelled the scene as "pure gold" in cinematic terms.
However, Phil Towle offers context on that iconic scene in a recent Metal Hammer interview, claiming the heated confrontation stemmed from "years of frustration".
"These guys are waiting for James. Waiting, waiting, waiting… not only waiting, but wondering whether James was ever going to come back", Towle recalls. "They were scared it was over. And when James comes marching back and says, 'I can't work between certain hours and certain hours', Lars was really p***** off. Like, 'What the f***? We've been waiting for you, and you've controlled us for 10 months. And he probably felt that James had controlled them for more than 10 months, right? So, this was the collision of years of frustration."
Towle insists that Lars "was not being an a*******, he was just someone who was expressing the pent-up anger he had felt". The band's former psychotherapist explains that all Hetfield wanted was to "work with my family, maintain my sobriety and maintain my composure". Although he admits the collision between friends and bandmembers, Hetfield and Ulrich, was "scary, but necessary".
Towle is credited by co-director Berlinger as the reason the band had survived, something viewers of the documentary did not share.
"I think the misperception is that [Towle] had his hooks in the band for fees and he was just looking to milk the situation," says Berlinger. "I don't think that's the case at all. I think he's a caring human being who wears his heart on his sleeve, and did great work in the band, and it got to the point where his job was done, and he had a hard time saying goodbye. But in having a hard time saying goodbye, he unwittingly gave Metallica the tools they needed once again to come together as a brotherhood."