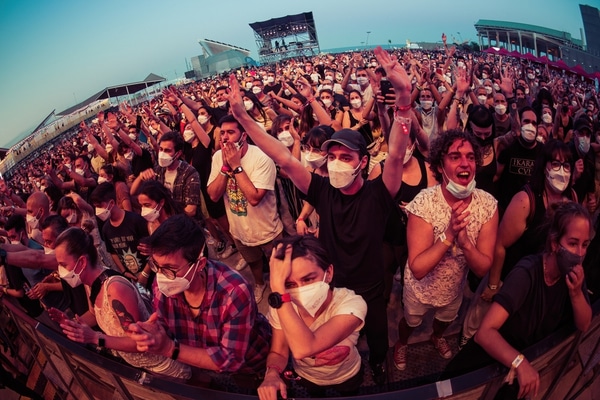 A new study from MusicWatch revealed that two thirds of music fans would be happy with a mandate for vaccination or mask wearing at concerts.
753 fans were serveyed for this study.
The survey showed that 67% of music lovers believe that venues should use mandates for mask wearing or proof of vaccination.
It also emerged that 70% of these music fans surveyed were double vaccinted anyway. It also said that 80% of these fans surveyed had been attending gigs since 2019.
MusicWatch's study also revealed that 27% of unvaccinated music fans believed that using such a mandate is correct. 29% of these fans also said that they would not attend a concert with such mandates in place.
"common sense"
Only 6% of concert goers said that they would not attend a gig with vaccination or mask mandates put in place.
Only 15% of fans agreed that fans should use "common sense" regarding mask wearing or getting vaccinated.
Earlier this month, Irish clubbers were able to take to the dancefloor for the first time since March 2020. This was part of a pilot nightclub event which took place in Dublin's Button Factory.
News of the event was first announced by Minister Catherine Martin.
She said, "Night-time culture sees creativity burst into life in towns and cities. It is where we dance, sing, play music but also where audiences come together and sustain local economies and livelihoods. All that was put on pause during COVID-19″.
She continued, "This new report looks at ways to reignite the Night-Time Economy and culture, especially so given the devastating effects of the pandemic on live and arts events. But there is an opportunity to enrich our night-time life with new options. Positioning us alongside other countries where a myriad of offerings await patrons after dark".
Only 450 people attended this event, which is 60% of the club's capacity. Find out how the event faired here.
Over 35% Of People Are Ready To Return To Gigs According To Radio Nova Survey