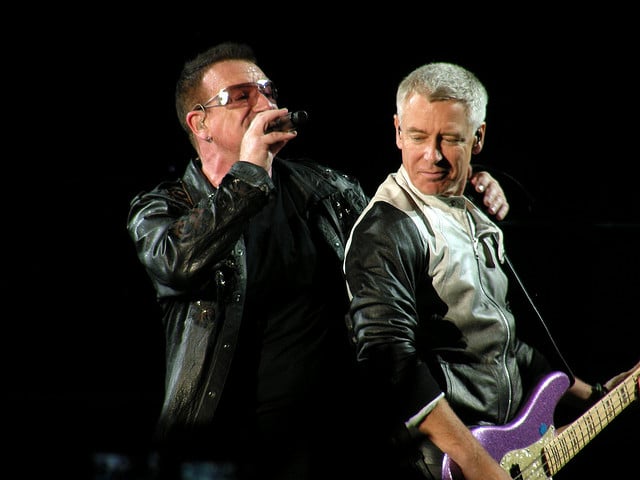 U2 have shared an exclusive clip of the making of their new album Songs of Innocence.
The Irish rockers released the video on Twitter, days after unveiling their new LP at Apple's iPhone 6 launch. Songs of Innocence is accessible to 500 million iTunes accounts.
In the clip Bono states: "These songs were always destined, it's coming together in a way, it's even surprising to us when your art is only limited to your imagination, that's a wonderful thing."
The in-studio video is shot at Electric Lady Studios in New York City, part of U2's new record was written and recorded there. The record studio has housed acts such as, Bob Dylan, Kiss, The Clash, John Lennon, as well as being the last place Jimi Hendrix recorded tracks before his death
Speaking to Rolling Stone, Bono said, "We wanted to make a very personal album. Let's try to figure out why we wanted to be in a band, the relationships around the band, our friendships, our lovers, our family. The whole album is first journeys — first journeys geographically, spiritually, sexually. And that's hard. But we went there."
Swedish singer-songwriter Lykke Li, features on the final track 'The Troubles', she said "Bono was kind of like the quiet leader, instructing me how to sing in tune – which I usually don't. Mostly, they let me do my own thing, but we tried different things like to whisper it to someone or to scream it to someone, but it was all about creating intimacy. We turned off all the music and sang only to the drums, so it was really getting to what the core of the song meant. I had a wonderful time."
Watch the exclusive U2 making of video here.
Songs of Innocence has 11 songs and will be officially released in physical form on October 13th.
The track listing for Songs Of Innocence:
The Miracle (of Joey Ramone)
Every Breaking Wave
California (There Is No End To Love)
Song For Someone
Iris (Hold Me Close)
Volcano
Raised By Wolves
Cedarwood Road
Sleep Like A Baby Tonight
This Is Where You Can Read Me Now
Troubles