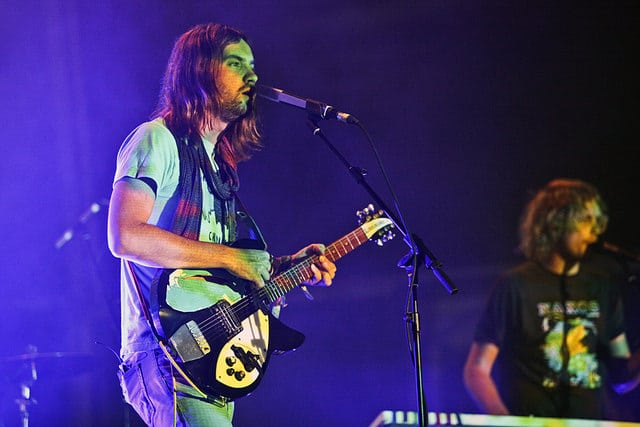 Tame Impala played their new track on The Late Show with Stephen Colbert last night. The band played 'The Less I Know The Better' from their latest album Currents on the show.
The band performed to a psychedelic and disco-inspired backdrop on the late-night show. Tame Impala are one of a number of high profile acts to play the show recently with Florence + The Machine, Kendrick Lamar, Paul Simon and Dan Auerbach's The Arcs having all performed live on the show.
The band were recently embroiled in a legal dispute over unpaid royalties but it has been resolved. The Southern District Court Of New York have dismissed claims that Tame Impala are owed over $450,000 (€400,000) in royalty payments.
The lawsuit was filed by rights management organisation BMG back in June. Steve Pavlovic, founder of Modular Recordings, was at the centre of the report for allegedly withholding royalty payments to Tame Impala.
However the case was recently dismissed and Pavlovic has been cleared due to a misunderstanding over terms between the two parties. Pavolic said in a stament "I'm deeply sorry for any upset caused to Tame Impala given that I've always been a staunch supporter and fan of the band."
Check out the band performing their new single 'The Less I Know The Better' down below.
Photo Credit: scannerFM