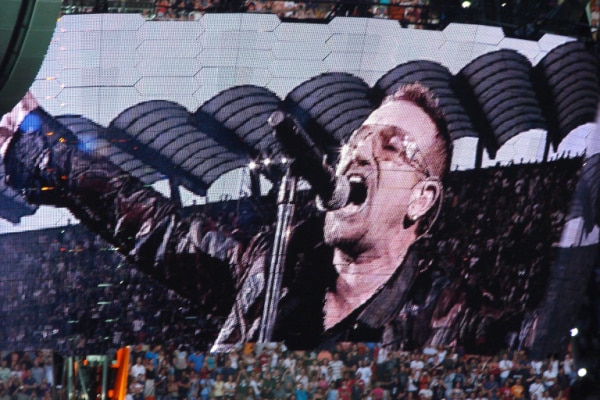 Would you like to listen to the article instead of reading it?
U2 have released their new single 'Atomic City', their first new tune in 2 years.
The song also includes an accompanying music video which you can check out below. It was also set in Las Vegas, where U2 are in the midst of a major residency.
Lead singer Bono can be also heard singing the following lyrics, "I'm free/ I see what's in front of me/ And your freedom is contagious/ What you've got I wanna be,".
Produced by Jacknife Lee, and Steven Lillywhite, the track was also recorded in LA, and has been described as "homage to the magnetic spirit of '70's post punk with a nod to Blondie, whose pioneering work with Giorgio Moroder inspired and influenced the band".
Whether or not 'Atomic City' features on the as yet-announced U2 album remains to be seen.
Check out the music video for 'Atomic City' below.
U2 had previously debuted the track at a surprise show at Las Vegas' Plaza Hotel earlier this month. More on this here.
U2 Planning Without Larry Mullen
Ahead of the opening night of their residency, which kicks off tonight, U2's Adam Clayton admitted that the band would miss drummer Larry Mullen Jr, who will miss this residency as he continues to recover from surgery.
"The whole band and I'm sure the audience are going to be very sad and miss Larry", Clayton said.
He also added, "He wants to come back, he wants to be able to have a long career and continue his drumming so he's taking care of those injuries".
Mullen will be replaced by Kreizip drummer Bram Van Den Berg in the line up, which was met with his blessing, according to Clayton.
"He's very much behind the idea of us going on stage with Bram", Clayton also stated. "I'm sure for Larry it's a difficult moment to know that your band are going on stage and you're not with them".
More on that here.
Bono and The Edge take @AppleMusic's @zanelowe inside @SphereVegas. Watch the Full Video:https://t.co/kklWFma8fg pic.twitter.com/baJQ6RA4VQ

— U2 (@U2) September 29, 2023