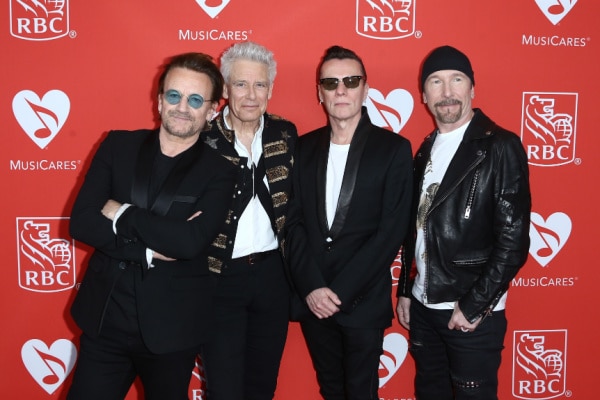 Would you like to listen to the article instead of reading it?
U2 Bassist Adam Clayton has said that the band will miss drummer Larry Mullen Jr, ahead of their upcoming Las Vegas residency.
Beginning at the end of this month, the 'U2:UV Achtung Baby Live at Sphere', will take place without Mullen Jr, who is still recuperating from surgery.
This is a tour which will be like no other, according to the 'With Or Without You' rockers. They said, "there's nothing else like it in the world, and won't be for many many years".
"going to be very sad"
However, U2 will be taking to the stage in Vegas without Larry Mullen Jr, as he recovers from surgery.
Speaking about Mullen Jr, bassist Adam Clayton has admitted that the the drummer's presence on stage will be missed by the band and fans alike.
"The whole band and I'm sure the audience are going to be very sad and miss Larry", Clayton said. "He wants to come back, he wants to be able to have a long career and continue his drumming so he's taking care of those injuries".
Kreizip drummer Bram Van Den Berg will deputise as U2's drummer in Mullen's absence, something which was met with his blessing, according to Clayton.
"He's very much behind the idea of us going on stage with Bram", stated Clayton. "I'm sure for Larry it's a difficult moment to know that your band are going on stage and you're not with them".
Have To Adjust
When asked about how Larry Mullen Jr's absence will effect the band, Clayton likened it to a time when U2 had to adjust to "when Bono couldn't perform with us".
This also led to some surprise guests joining the band, including Bruce Springsteen, and Chris Martin.
"Bruce Springsteen stepped in which is quite a strange one as well, actually Chris Martin did a turn as well", Clayton explained. "It happens in the life of bands".
"I think Larry is probably quite sanguine about it and realises he needs to get his health back together again", he added.
U2 had also spoken about difficulties faced when preparing for concerts without Larry Mullen Jr.
"It's going to take all we've got to approach the Sphere without our bandmate in the drum seat, but Larry has joined us in welcoming Bram van den Berg who is a force in his own right", they said back in March.
Ahead of their residency, U2 announced 'Zoo Station', a new immersive experience built with their Sphere venue at Vegas, providing an insight into the making of their 'Achtung Baby' album, which inspired this tour. More on this here.