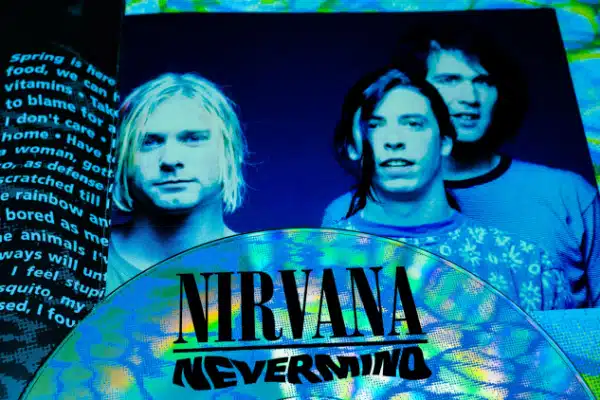 Would you like to listen to the article instead of reading it?
Nirvana have confirmed a special 30th anniversary release of their album 'In Utero'.
Arriving on October 27, the album will be reissued via several formats, including a limited edition eight LP super deluxe box set.
Other formats also include a two CD deluxe edition, five CD super deluxe box set, five CD super deluxe box set, along with one LP + 10 inch edition.
The three super deluxe editions will also include 72 tracks, and 53 previously unreleased tracks.
Live material also features in this special reissue from Nirvana, including two full concerts from 'Live In Los Angeles' in 1993, and the final Seattle performances by Kurt Cobain and co in 1994.
Six bonus live tracks are also included in the reissue, from Rome, New York, and Springfield.
Other items included in the reissue also include, a 48-page hardcover book with unreleased photos, a removable front-cover acrylic panel with the album's iconic Angel, replicas of the 1993 record store promo Angel mobile, a Los Angeles tour poster lithograph by hot rod artist Coop, two ticket stubs for Los Angeles, three gig fliers, as well as an All-Access tour laminate, and four cloth sticky tour backstage passes.
You can also pre order it here.
'In Utero'
Originally released on 23 September 1993, 'In Utero', included hit Nirvana single 'All Apologies', a track which was performed by the band in their MTV Unplugged special, along with 'Heart Shaped Box'.
'All Apologies' was also famously covered by the late Irish singer Sinéad O'Connor, featuring on her 1994 album 'Universal Mother'.
Following her death in July, this special cover began to do the rounds on social media. Check out the cover and Nova's report on this here.
Sadly, Nirvana disbanded in 1994 following the death of frontman Kurt Cobain. The band also featured drummer Dave Grohl, a friend of Cobain's.
In subsequent years, Dave Grohl has achieved major success as the lead singer of Foo Fighters.
Before this, Dave Grohl revealed that he turned down the chance to join Tom Petty & The Heartbreakers. The offer arrived not long after Cobain's death, and Grohl admitted that he was still reeling from that loss.
More on this here.