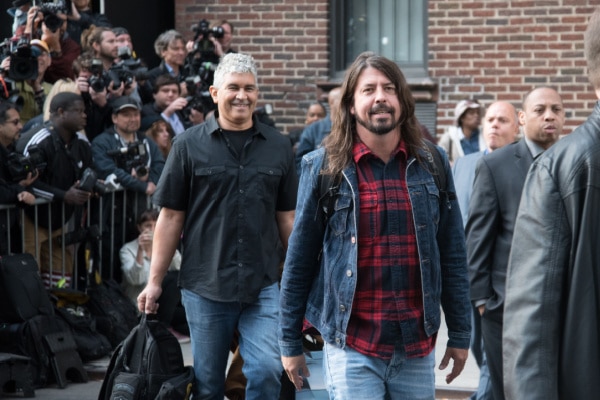 Would you like to listen to the article instead of reading it?
Dave Grohl has shed some light on his decision to turn down the chance to become the new drummer for Tom Petty & The Heartbreakers.
Grohl joined the band on stage on Saturday Night Live in November 1994, performing two tracks 'You Don't Know How It Feels' and 'Honey Bee' from Petty's 'Wildflowers' album.
"Someone from my management calls and says, 'Hey, Tom Petty just called and wants to know if you'll play drums with them on Saturday Night Live?'", Grohl explained.
Adding that he was surprised that Petty thought of him to begin with, Grohl continued, "What the f*** is he calling me for? He couldn't find a good drummer?".
"I was really excited to play both songs but mostly Honey Bee because Honey Bee is just such a rocker. It's like the kind of thing a bunch of 16-year-olds would play in the garage to get off. It's killer. It's a barn burner".
See below.
"back in Nirvana"
At the time, Tom Petty was on the lookout for a new drummer, following the departure of Stan Lynch.
Petty turned to Grohl with a very tempting offer to become an official Heartbreaker full time.
"I did Saturday Night Live with Tom Petty, and we had so much fun and we all got along so well. I was like, 'Wait, why would it be me?' … He could get like a world-class drummer, like any dude", Grohl revealed.
He added, "We played SNL and afterwards, basically, he [Petty] was like: 'Man, that was good. It would be a shame if that's the only time we do it.' Then he called me at home, and he's like, 'Well, look, if you want, here's how we'd do it: You get your own bus. We don't tour too hard. … If you're into it, let's go out and do it for a little while".
"sad for me personally"
However, as Grohl explained, he was dealing with a heartbreak of his own. The rocker was understandably still reeling from the death of Nirvana's Kurt Cobain. Cobain had died from suicide that year.
"I'd just started doing this thing", he explained. "And I just felt weird about going back just to the drums, because it would just have reminded me of being back in Nirvana. It would have been sad, for me personally".
"It would have been an emotional thing to be behind the drums every night and not have Kurt there. So I was like, Nah, fuck it. I'm going to try this other thing".
In 2021, Dave Grohl hailed his former bandmate as "the greatest songwriter of our generation".
In more recent times, Grohl's current band also collaborated with singer Michael Bublé on stage. See here.