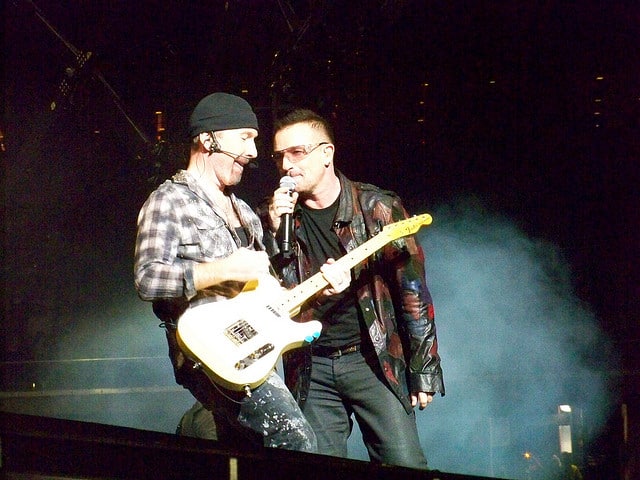 U2 might be heading in a new direction for their potential 2015 tour, the group are teasing the possibility of performing two very different types of concerts.
The Irish rockers are apparently mulling over the idea of holding one acoustic gig and one electric show.
Bono has previously hinted that the band would like to tour indoor venues. This would certainly be a departure, from their usually massive stage shows.
The Zoo TV Tour was an elaborately staged performance featuring dozens of large video screens that showed visual effects, video clips, and flashing text phrases. The PopMart Tour featured a lavish stage design, complete with a 165-foot wide LED screen, a 100-foot high golden arch, and a large mirror-ball lemon.
Most recently, the 360 Tour had a massive four-legged structure nicknamed 'The Claw,' which enabled the audience to see the group from all angels.
The forthcoming tour sounds more in line with the stripped down Elevation Tour or elements of the Vertigo Tour. Bono said, "It's exciting. We'll be coming your way and these songs are the songs that, I think, will play themselves."
Just like their recent Songs Of Innocence album launch on iTunes, the idea of two different types of concerts would be completely original for the Irish group.
Speaking with Rolling Stone, bass player Adam Clayton said: "There is talk of doing two different kinds of shows. One night would be a kind of loud, explosive rock 'n' roll kind of event and then the other night's show take the acoustic arrangements of some of the songs, and kind of present those songs in a much more intimate way. But we don't really know how that's going to sound and look."
So does this mean Croker and the Aviva are going to be shunned for the 3Arena? Nobody is quite sure yet, but if the Irish concerts are held in an indoor venue, U2 could possibly set a record for consecutive nights played.