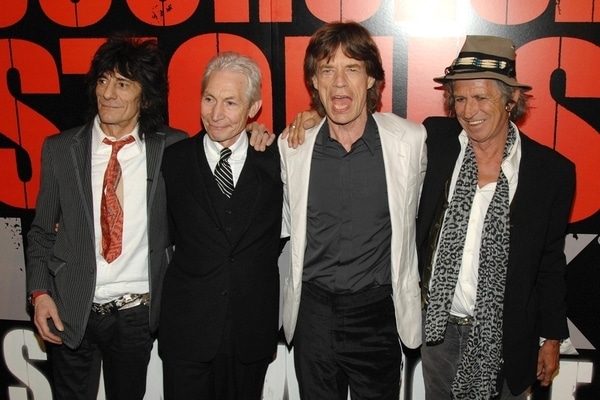 The UK's Royal Mail is set to celebrate the 60th anniversary of the founding of The Rolling Stones with a special set of 12 stamps.
Eight of the stamps feature images of the band performing at a variety of venues around the world throughout their career. Among them are London's Hyde Park in July 1969; Düsseldorf, Germany in October 2017; New York, USA in July 1972; Knebworth, Hertfordshire in August 1976 and Tokyo, Japan in March 1995. The Düsseldorf stamp features the late drummer Charlie Watts in action.
Two more stamps feature all four members of the band posing while the final two display promotional posters from past world tours.
"Few bands in the history of rock have managed to carve out a career as rich and expansive as that of The Rolling Stones," said Royal Mail Director of Public Affairs & Policy David Gold. "They have created some of modern music's most iconic and inspirational albums, with ground-breaking live performances to match."
The stamps can be pre-ordered from Royal Mail now at www.royalmail.com/rollingstones and will be on general sale from January 20th.
The Rolling Stones are the fourth band to be honoured with Royal Mail stamps following The Beatles in 2007, Pink Floyd in 2016 and Queen in 2020.
— Royal Mail (@RoyalMail) January 11, 2022
America's Library of Congress recently released previously unseen footage of the infamous 1969 Rolling Stones headlined Altamont Speedway Free Festival.
The festival is sadly best remembered for the violence that broke out due to Hell's Angels being hired as security. A teenage boy, Meredith Hunter, lost his life after being stabbed by one of the bikers.
The video comes without audio but offers a glimpse of the Stones along with Gram Parsons, Crosby, Stills, Nash & Young and other support acts.
The footage was discovered among 200,000 film reels donated to the library by archivist Rick Prelinger. The library's head of the Moving Image Section, Mike Mashon, detailed how a technician came across "two reels of silent 8mm reversal positive – a common home movie format, which was accompanied by a handwritten note that read 'Stones in the Park'."
"When I saw that, I immediately thought that it could be a home movie of the July 5, 1969, Rolling Stones Hyde Park concert held in London a couple of days after the death of guitarist Brian Jones," Mashon wrote on his blog. "But it could also be a copy of a documentary of the same name, which would make the discovery considerably less interesting. Regardless, I sent the reels up for 2K digitisation by our film preservation laboratory. A couple of days later, I heard from some very excited colleagues that the scan wasn't the Hyde Park show. It was from the Altamont Speedway concert in California and it definitely wasn't footage from the 1970 documentary. Many people know the Gimme Shelter documentary pretty well, but there's a lot more in this home movie."