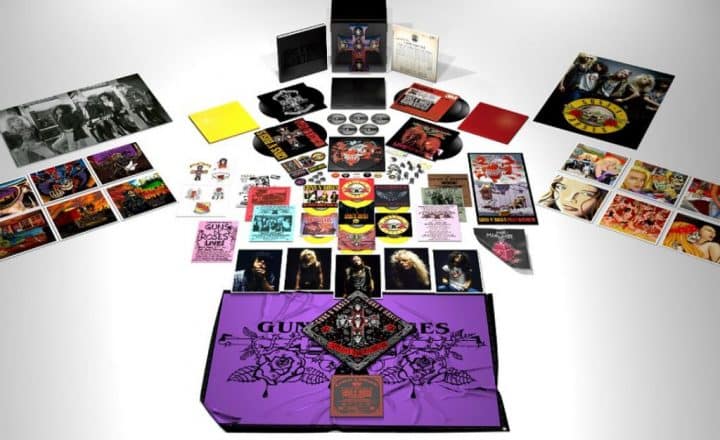 Appetite for Destruction celebrates its anniversary with a special re release due this this year. Fans have been speculating online that a big announcement is due to confirm a world tour around the iconic album's milestone.
According to Loudwire, 'Guns N' Roses Central, the band's official YouTube channel accidentally went live with an unboxing video for the super deluxe edition, called 'Locked N' Loaded' which was quickly captured by many before being pulled down. The unboxing video is available at the bottom of the page and yes it looks awesome.
As Loudwire reports, the new release is a mammoth 73 tracks long, with 49 of them being previously unreleased songs. A new version of the record, remastered from the original analogue tapes for Appetite For Destruction, will be presented across two LPs, and the package will also contain a pressing of Guns N' Roses' 1986 EP 'Live ?!*@ Like a Suicide'.
A second EP will contain various b-sides from the era. Unreleased recordings from the band's 1986 Sound City sessions will also feature, as well as a further two unreleased tracks made with their producer Mike Clink.
On top of that, the super deluxe edition comes in an embossed faux leather and wood cabinet and includes a 96-page hardbound book with unreleased photos from Axl Rose's personal archive, 73 total tracks featuring 49 unreleased tracks, the original Appetite for Destruction expanded to two-LPs featuring the first ever album remaster from analog tapes, with a total of seven 12-inch 180-gram LPs and much, much more.
NME speculates, that it's likely that Guns N' Roses will also announce some sort of reunion tour. The band's official website displays a map that could well point towards an upcoming world tour. However, Steven Adler told Heavy   his thoughts regarding the promotion that appeared in London of the original five Appetite for Destruction members,
"I think it's just a billboard [promoting] a box set of CDs of the GN'R collection. I'm not sure, but that's what I think it is. If it's for the 'Appetite Of Destruction' lineup to be touring together again, which I have been playing for for 25 years, nobody's said anything to me. So I really don't know. But you're definitely gonna be able to see me play 'Appetite For Destruction' with an amazing singer and a great band in Australia. So that we've all got going for us."