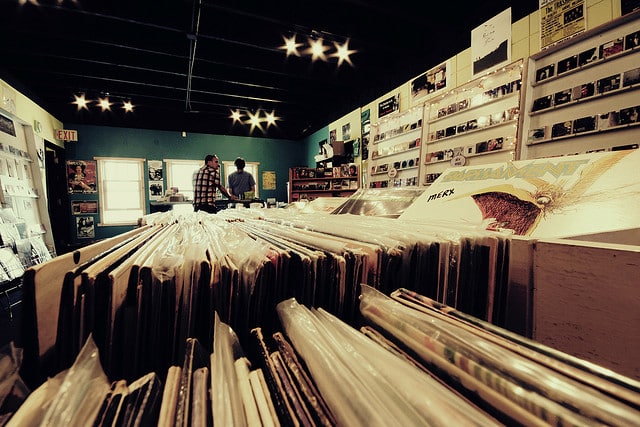 Fool me once, shame on you hipsters, fool me twice, shame on me for being duped by a hipster twice.
Last month, Urban Outfitters' chief administrative officer, Calvin Hollinger dropped the bombshell that Urban Outfitters out sold Amazon.com and every other retail record shop in the world.
Hollinger said, "Music is very, very important to the Urban customer… in fact, we are the world's number one vinyl seller." Independent record shop purists were left scratching their heads, how did the overpriced hipster store do it?
Well it turns out that the lofty claim was too good to be true. Billboard took it upon themselves to delve into the evidence, they surveyed music labels, their distributors, and wholesalers.
Billboard analysis shows that Amazon is the largest seller of vinyl, with approximately 12.3% market share, followed by Urban Outfitters with 8.1% market share.
Billboard also investigated international sales figures and guess what, Amazon crushed Urban Outfitters, selling way more internationally.
The vinyl industry has unexpectedly boomed over the last couple of years with sales of over 6.1 million in 2013 and more set for this year.
"Independent retailers are still the backbone of vinyl's growth, and they are still selling tons of it," says one major label distribution executive. "Indies are driving the format's growth and everyone else is picking up on what they do."
Here's a chart via Statista that shows how vinyl sales have skyrocketed in the past few years.
Vinyl Sales in U.S. By Retailer:
Amazon – 12.3%
Urban Outfitters – 8.1%
Hastings Entertainment – 2.8%
Hot Topic – 2.4%
Trans World Entertainment – 2.2%
Audiophile, Acoustic Sounds, Newbury Comics – Between 1.5 and 2%