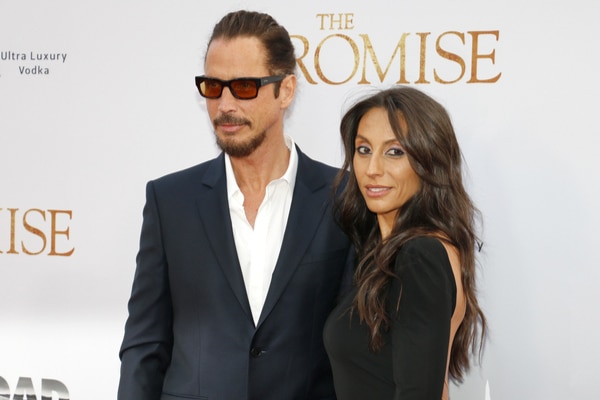 Vicky Cornell the widow of Chris Cornell, has shared a hand written letter that he wrote to her.
Vicky Cornell shared the letter as part of an interview for Fatherly. In this interview, Vicky talked about grieving for her husband who committed suicide in May 2017.
Vicky said that her and the couple's children Toni and Christopher continue to keep Chris' memory alive through the "great charitable work" done by the family's foundation.
"Chris is constantly kept in the present", she said. "We speak about him, we play his music, we share memories, we work in his legacy and I include my children in that". 
"We continue the great charitable work that he did personally and through the Chris and Vicky Cornell Foundation", she continued. "Giving back was important to Chris and it is something we did together as a family, so we still do that and it keeps his memory and what was important to him alive". 
"I write this with a quivering hand"
Vicky shared the love letter written to her by Chris. The letter was written in red ink and block capitals.
It reads, "I write this with the quivering hand that is guided by the fortunes of a heart lucky enough to know true love. My heart is a beating drum and my voice a clanging bell sounding to the world, I love you. Be mine in joy lit only by the glow of our shining love".
Stop the Stigma
Along with the Chris and Vicky Cornell Foundation, Vicky also revealed that Toni and Christopher have set up another charity. The charity is a national initiative called Stop the Stigma: Tackling the Stigma of Addiction through Education.
The initiative is about teaching teenagers about the science of substance use disorders.
Earlier this month, Chris Cornell's daughter Lilly Silver Cornell recently spoke The Pretty Reckless' Taylor Momsen on a podcast called Mind Wide Open hosted by Silver which aims to "help de-stigmatise the conversation around mental health". 
The podcast has interviewed artists, mental health professionals and public figures who spoke about their experiences with mental health.
Momsen said that music helped her in her battle against mental health issues, following Chris' suicide in 2017. The Pretty Reckless were on tour with Chris' band Soundgarden at the time of his passing.
Vicky Cornell & Soundgarden
Earlier this month, Vicky and the remaining members of Soundgarden appeared to reach a temporary truce. Both sides had been at loggerheads, following a series of legal disputes over the handling of the band's social media accounts and website.
Surviving members, Matt Cameron, Kim Thayil, and Ben Shepherd have now regained control of the site and accounts. This regain of control had also followed a lawsuit filed by Vicky Cornell. Cornell had used the accounts without the band's consent.
More on that report here.
Hey friends, fans, family, and freaks! Get 20% off the store this weekend only. https://t.co/ASG2b6oSDB pic.twitter.com/ZuSLYRlQ03

— Soundgarden (@soundgarden) July 1, 2021