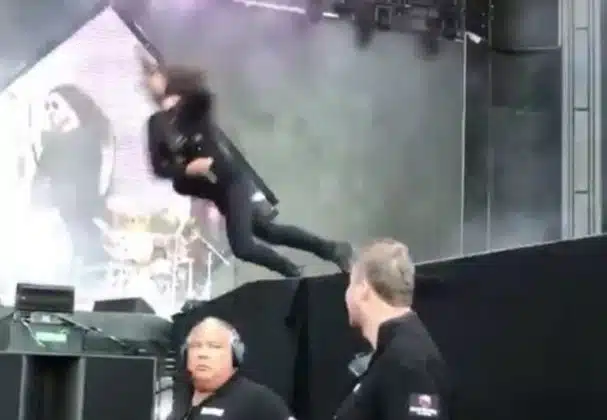 Foo Fighters are currently blazing a trail across Europe, and at a recent show, Dave Grohl decided to play a prank on the fans and stage a re-enactment of his 2015 fall that left him with a broken leg. Watch the hilarious moment below!
It was nearly three years to the day that he fell offstage in Gothenburg, Sweden leaving Grohl in a cast. This time, Grohl managed to fool an entire crowd in the same city into thinking that he had done it again. Foo Fighters opened their concert last night June 5th when a man looking exactly like Grohl ran onstage and crashed out onto the floor.
In the video it starts like any other show, with the rest of the band taking the stage at the Ullevi Stadium and holding onto a chord with the smoke machines billowing as they wait for the front man. Then, what looks like Grohl holding a guitar, dressed in black with long hair, runs out to center stage, and onto the ramp going into the audience.
He waves to the crowd befor taking a nasty dive of the ramp into the gallows. Before anybody realised what was going on, the real Grohl ran onstage and they launched into their first number. When the real Dave Grohl came onstage it was revealed that he hired a stuntman!
Dave Grohl didn't let a broken leg stop him from rocking the #GOTRStopover in Walla Walla. pic.twitter.com/bDwbnxQvn3

— 101.9 KINK (@kinkradio) August 15, 2015