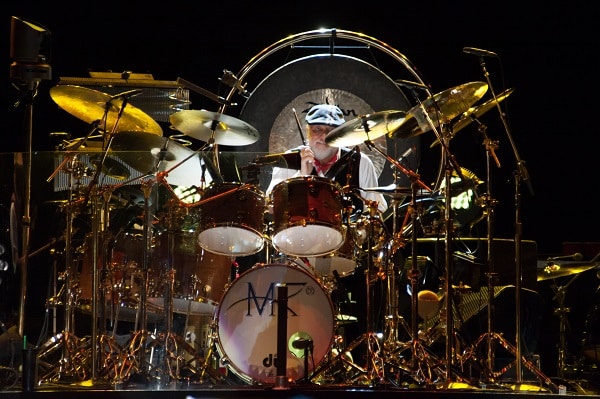 Fleetwood Mac co-founder, Peter Green was honoured with a special tribute show at the London Palladium last night.
The charity gig was led by his fellow bandmate Mick Fleetwood and a whole host of all-star supporting guests.
The NME reports that the show was in aid of Teenage Cancer Trust and saw appearances from David Gilmour, Pete Townshend, Kirk Hammett, Steven Tyler, Neil Finn, Christine McVie, Noel Gallagher as well as Billy Gibbons.
Fan Footage that captured the night reveals Neil Finn performing a rendition of Fleetwood Mac's 'Man of the World', Gibbons and Tyler team up on 'Oh Well', and Gilmour played 'Oh Well', Part 2.
"If music be the food of love … then play on …" 🎶🎸. Wow, wat een avond … #petergreen #tribute #mickfleetwood & #friends pic.twitter.com/FJ21V0qZeY

— #️⃣Jeroen (@JPVDW) February 25, 2020
The evening ended with an all-star rendition of 'Shake Your Money Maker'.
Mick Fleetwood & Friends Tribute to Peter Green – London, England Set List
1. "Rolling Man"
2. "Homework"
3. "Dr Brown"
4. "All Your Love"
5. "Rattlesnake Shake"
6. "Stop Messin' Around"
7. "Looking for Somebody"
8. "Sandy Mary"
9. "Love That Burns"
10. "The World Keeps Turning"
11. "Like Crying"
12. "No Place to Go"
13. "Station Man"
14. "Man of the World"
15. "Oh Well, part 1"
16. "Oh Well, part 2"
17. "Need Your Love So Bad"
18. "Black Magic Woman"
19. "The Sky is Crying"
20. "I Can't Hold On"
21. "The Green Manalishi"
22. "Albatross"
23. "Shake Your Moneymaker"