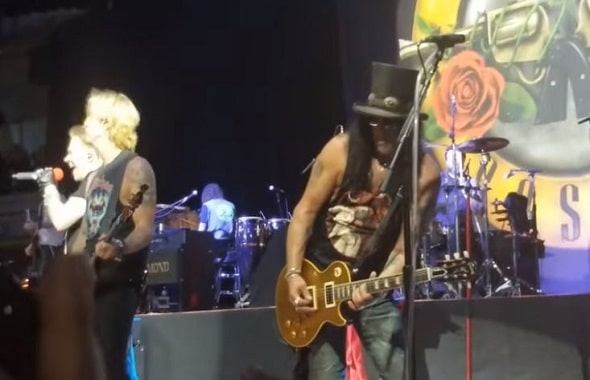 Guns N' Roses performed a show at a unique intimate venue last week. The special show took place last Saturday, September 21st.
The gig was part of the Citi Sound Vault series where the band took the opportunity to launch their North American tour.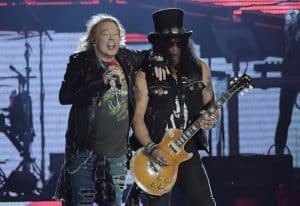 The crowd gathered at the Hollywood Palladium, which seats up to 5,000 were treated to a 24-song set that included many of their classic songs and many covers.
Those included the Misfits, Jimmy Webb and Pink Floyd. According to Antimusic, the gig was the band's official kick start of their North American fall tour which rolls out from Wednesday (September 25th) in Charlotte, NC.
Check out some fan-filmed footage from the Palladium show below:
The setlist for the show was as follows:
01. It's So Easy
02. Mr. Brownstone
03. Chinese Democracy
04. Welcome To The Jungle
05. Double Talkin' Jive
06. Better
07. Estranged
08. Live And Let Die (WINGS cover)
09. Slither (VELVET REVOLVER cover)
10. Rocket Queen
11. You Could Be Mine
12. Shadow Of Your Love
13. Attitude (MISFITS cover)
14. Civil War
15. Coma
16. Slash Guitar Solo
17. Sweet Child O' Mine
18. Wichita Lineman (Jimmy Webb cover)
19. Wish You Were Here (PINK FLOYD cover)
20. November Rain
21. Knockin' On Heaven's Door (Bob Dylan cover)
22. Nightrain
Encore:
23. Patience
24. Paradise City