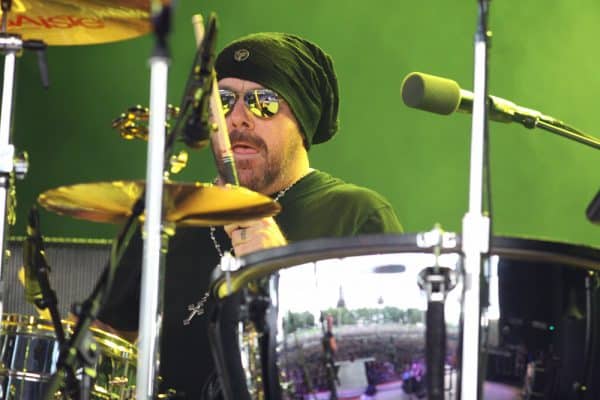 In the states at Darling's Waterfront Pavilion in Maine, Foreigner and Whitesnake and Jason Bonham kicked off their 'Juke Box Heroes' tour on Friday, June 15th,  You can check out the videos and setlists of all three acts below.
Foreigner were firing on all cylinders for their closing set, they opened with 'Long, Long Way From Home.' The rest of their show comprised of classics such as 'Double Vision,' 'Waiting for a Girl Like You' and 'Cold as Ice.' The namesake of the tour was also played, closing out the main set before the encore of 'I Want to Know What Love Is' and 'Hot Blooded.'
Whitesnake were the second act on the bill. While their show covered such mega-hits as "Is This Love," "Here I Go Again" and "Still of the Night," there was also a guitar duel between Joel Hoekstra and Reb Beach and a drum solo by Tommy Aldridge during 'Crying in the Rain.'
Opening the concert was Jason Bonham's Led Zeppelin Evening. Their 8-song show had such classics ( made famous by his father John ) as "Immigrant Song" and "Whole Lotta Love," closing with "Stairway to Heaven." The three acts will remain on the road, playing outdoor venues across the U.S., until Aug. 1, when they wrap it up at the Five Point Amphitheater in Irvine, California.
Foreigner, Darling's Waterfront Pavilion, June 15, 2018 Set List
"Long, Long Way From Home"
2. "Double Vision"
3. "Head Games"
4. "Cold as Ice"
5. "Waiting for a Girl Like You"
6. "Dirty White Boy"
7. "Feels Like the First Time"
8. "Urgent"
9. "Starrider"
10. "Juke Box Hero"
Encore
11. "I Want to Know What Love Is"
12. "Hot Blooded"
Whitesnake, Darling's Waterfront Pavilion, June 15, 2018 Set List
"Bad Boys"
2. "Give Me All Your Love"
3. "Love Ain't No Stranger"
4. "Slow an' Easy"
5. "Guitar Duel"
6. "Crying in the Rain"
7. "Is This Love"
8. "Slide It In"
9. "Here I Go Again"
10. "Still of the Night"
Jason Bonham's Led Zeppelin Evening, Darling's Waterfront Pavilion, June 15, 2018 Set List
"Immigrant Song"
2. "Good Times Bad Times"
3. "The Ocean"
4. "Over the Hills and Far Away"
5. "Whole Lotta Love"
6. "No Quarter"
7. "Misty Mountain Hop"
8. "Stairway to Heaven"
Thank You, Bangor!!! Thanks For Making A  [email protected] Great Noise!! & Thank You For Singing With Me!! Helped Me Immensely!!! pic.twitter.com/5y7DZo0qOC

— David Coverdale (@davidcoverdale) June 16, 2018