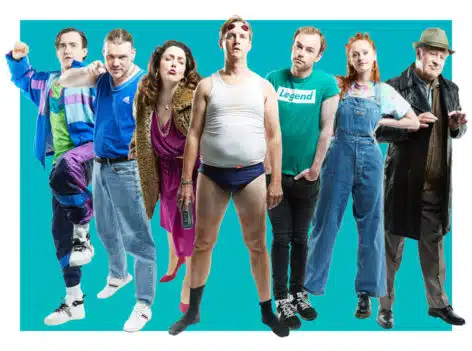 By Emily Brew
Set in the mid-90s in a video shop in west Tallaght, against the backdrop of the "Drugs Out" marches, Straight to Video is a biting new comedy written by and starring Emmet Kirwan. Kirwan is reunited with director Phillip McMahon- the pair previously worked together on Kirwan's breakthrough work Dublin Old School.
Straight to Video follows video shop owner Barry (played by Kirwan), who is having problems with his staff, the customers, a local vigilante called The Coach, and an elusive video pirate simply called The Video Van Man. His long-suffering staff Karl (Colin Campbell) and Claire (Kate Gilmore) are the movie geeks that keep the shop going, but they and the shop are having a tough time dealing with local vigilantes and their chaotic family lives, not to mention VHS going rapidly out of fashion. The shop cannot survive if things continue like this and all anyone in this play wants is to watch a film together, in peace.
Straight to Video is a buzzing ensemble comedy with a huge heaving heart featuring a stellar cast – Stephen Brennan, Colin Campbell, Lloyd Cooney, Derbhle Crotty, Callan Cummins, Kate Gilmore and Emmet Kirwan. It's a very fun night out and a real tonic for audiences returning to live theatre.
Straight to Video runs in the Project Arts Centre until 11th December 2021.
Tickets: €20-35 available at projectartscentre.ie