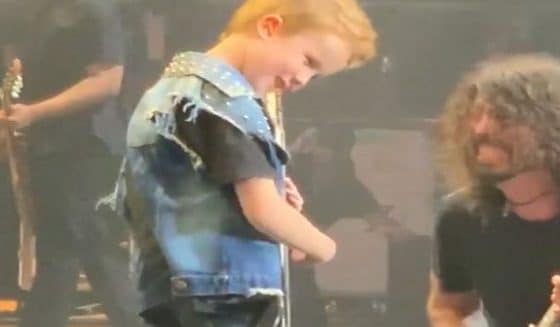 A moment to remember for 8-year- old Revel, son of Anthrax guitarist Scott Ian. The memorable event happened at the Bourbon & Beyond Fest during the Foo Fighters set.
According to Consequence of Sound, it was the "proudest dad moment ever" for Scott when Revel went onstage to join the Foo Fighters last weekend. He strummed along on his small guitar to "Everlong" with Dave Grohl and the rest of the band.
The Foo's were performing at the Bourbon & Beyond Festival in Louisville, Kentucky. Some video clips from the event show Scott Ian backstage with his son just before he is introduced by Dave Grohl as "one of my favorite guitar players of all time."
Revel proudly made his way onto the stage and was joined by "Armando" supposedly the boy's guitar technician who by the way looked a bit like Scott Ian his dad. At that point, the band and Revel broke into the Foo Fighters classic "Everlong".
Grohl got down on his knees to play face to face with the boy. At the end of the number, Revel walked off raising his fists in the air, giving a fist bump to Pat Smear and hugging his dad who yelled, "You f**king rule!"
At the end of the set, he was invited back on stage to take a bow with the rest of the Foo Fighters. The video was shared by Ian who wrote, "Proudest dad moment ever?"
"How about when your son gets to join his favourite band on stage to play 'Everlong' in front of 40,000 people and NAILS IT! Thank you Dave, Taylor, Pat, Nate, Chris, Rami, Gus, Kerwin, Sean, Patrick, Simone and everyone else on the Foo crew for being the best!!!"