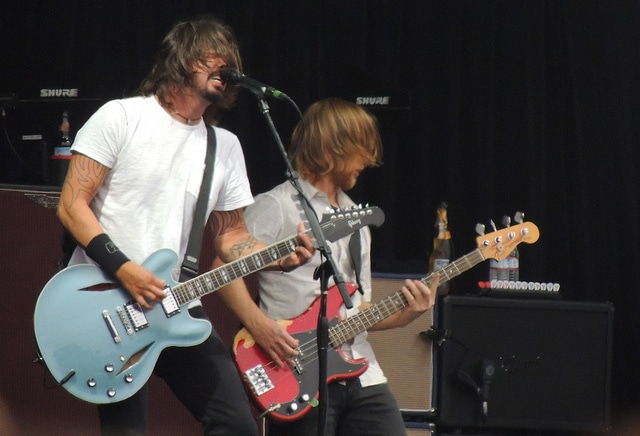 At a recent Foo Fighters gig in Amsterdam, frontman Dave Grohl found himself in a predicament at the start of the gig. The stage was covered by a massive curtain that had the Foo Fighters logo on it.
Foo Fighters began the show with one of their most beloved songs 'Everlong' when as the stage curtain dropped it fell on top of Dave Grohl. The massive curtain was meant to fall to the ground but it got caught on Dave Grohl's throne.
Grohl tried to play on with the curtain covering him, but eventually the song had to be restarted as the stage crew had to remove the stage curtain that was on top of him.
In typical Dave Grohl fashion he greeted the situation with a a sense of humour "Sometimes it's the f**ked up things that make you remember the show for the rest of your life." Grohl said this to the crowd just before the band kicked back into 'Everlong'.
The band who are currently on tour in Europe at the moment, recently released a countdown on their website with a new Foo Fighters logo. It has since been updated with pictures in the background showing a recording studio and a quote saying "The Nish is Drawn Inside".
You can check out the hilarious incident that happened at a Foo Fighters gig in Amsterdam down below.
Photo Credit: Daneil Hartwig