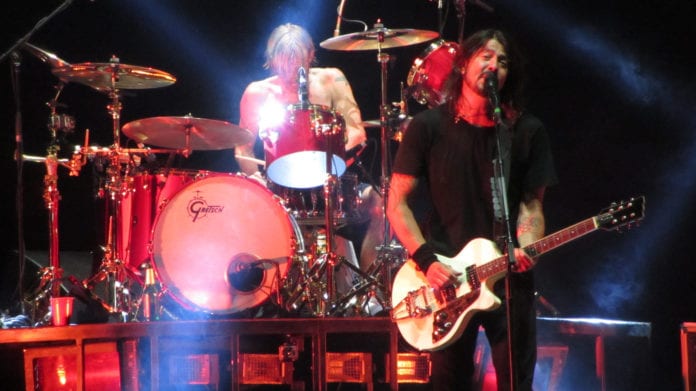 The Foo Fighters previously teased that "the biggest pop star in the world" was set to feature on their upcoming record, 'Concrete and Gold', and today we may have found out who that is!
*Drumroll please*
Okay… we STILL don't know… But we have found out the name of another famous icon whose musical flare will feature on the album too, which will be released on September 15th.
Dave Grohl has revealed that the one and only Paul McCartney plays the drums on the forthcoming new Foo Fighters album.
Speaking to ET Canada, front-man Grohl said: "Paul McCartney plays drums on one of our songs. He's a pal. We've known him for a long time. He's great. He's the most wonderful person in the world. He's a great guy."
And Foo Fighters Drummer Taylor Hawkins added: "He hadn't even heard the song. He comes in and Dave picked up an acoustic [guitar] and showed him real quick. He sat on his special drum set that his tech set up for him. I sat there with a drumstick conducting. He did two takes."
We still have our suspicions about who the unnamed pop star might be – Lady Gaga and Ed Sheeran come to mind, or maybe it will be another musical icon like McCartney! One thing is for sure, we'll be letting you know as soon as we do!
Photo Credit: Ed Vill