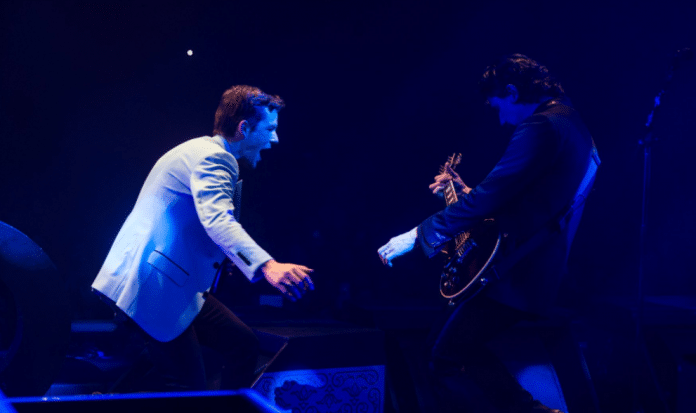 On Saturday, April 14th, The Rock And Roll Hall Of Fame induction ceremony took place at Cleveland's Public Hall. Nina Simone, Bon Jovi, The Cars, Dire Straits, the Moody Blues, and Sister Rosetta Tharpe were all inducted into the Rock And Roll Hall Of Fame.
The Killers opened the ceremony by paying tribute to the late, great Tom Petty with covers of 'American Girl' and 'Free Fallin'. These videos and more are available to watch below…
Later in the proceedings, lead singer Brandon Flowers returned to the stage to induct another of the band's influences, The Cars: "The Cars were the first band I fell in love with. And you never forget your first… They achieved greatness and left a comet trail behind them, writing and recording songs that have transcended into classics."
Howard Stern was there to induct Bon Jovi, as New Jersey Governor Phil Murphy recognised the honour by proclaiming April 14th 'Bon Jovi Day' in New Jersey.
Following a very long 18 minute speech from Jon Bon Jovi, the band reunited with the founding members Richie Sambora and Alec John Such to perform, 'It's My Life', 'You Give Love A Bad Name,' and their 2016 offering 'When We Were Us' before finishing with 'Livin' On A Prayer'.
Alabama Shakes' Brittany Howard covered Sister Rosetta Tharpe's 1938 classic 'That's All' with Questlove and Paul Shaffer. 
Alice In Chains' Jerry Cantrell and Heart's Ann Wilson performed a stripped back  version of Chris Cornell's 'Black Hole Sun' during the 'in memoriam' section.
The Cars performed  'My Best Friend's Girl,' 'You Might Think,' 'Moving In Stereo,' and 'Just What I Needed' with Weezer's Scott Shriner sitting in for the late Benjamin Orr on bass. Orr died of pancreatic cancer in 2000.