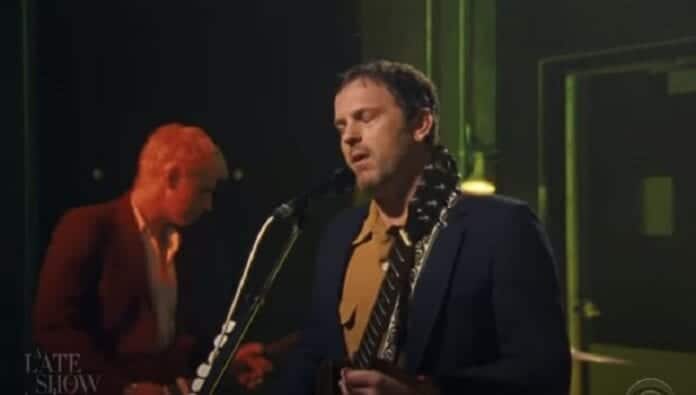 Kings of Leon have recently finished up a two night residency on The Late Show With Stephen Colbert.
The band performed their new song 'Stormy Weather' and you can check it out below.
Kings of Leon released 'When You See Yourself' last week and had a two night residency on Colbert's show.
On the first night, they played 'The Bandit'. The two performances were in promotion for the new album.
The band made history by becoming the first band or artist to release an album in the form of an NFT – Non-Fungible-Token.
It's the first time a major artist has accepted this type of cryptocurrency. All purchases came with the album, artwork, tickets and other merchandise.
Kings of Leon's new album has been well received by critics and is currently out-selling all other artists in the Top 5 in the UK charts.
Recently, frontman Caleb Followill has criticised climate change deniers.
Their new album features a song entitled 'Claire and Eddie' that deals with climate change. It's the first time any member of the band have made political comments in public.
Followill said "I think that is a pretty universal thing. I know there is a bunch of idiots out there that don't believe that we have been damaging our homes for a long time."
"I guess that is their opinion but when it comes to stuff like that, I think everyone should agree that there are things that can be done and they are not easy."
"Once again, it is not an overnight thing even though the quicker we do it the better it is. That was something I felt like, anyone who fights me on that, they can f*** off."
Explaining why he and other members of Kings of Leon had been reluctant to make political statements in the past he said:
"The older we get, things affect us differently and people can get a little more riled up than others about certain situations, but we all know that that is not our job, that is not what we consider to be our job."
"I know a lot of people think that when you have a microphone you should take advantage of that opportunity to speak truths. But like I say, my truths may not be your truths."
Quotes: Press Association.
https://www.youtube.com/watch?v=ReB4aKpwYQU