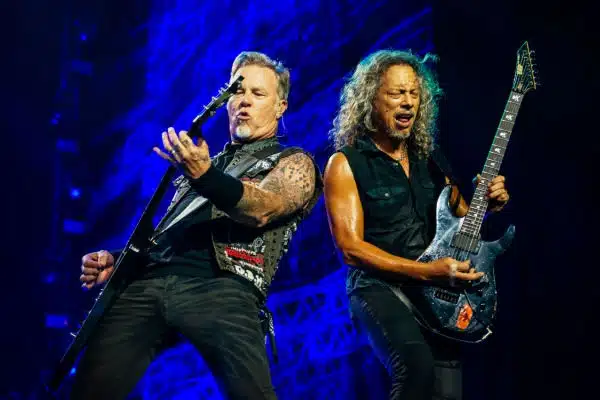 Would you like to listen to the article instead of reading it?
A video of Metallica performing 'Whiskey In The Jar' from a recent show has been released.
The footage which you can check out below, was taken from the band's recent showing at the UK's Download Festival at the weekend before last.
The show itself saw Metallica perform two sets infront of 100,000 people, with footage of the band performing the tracks from the first set, being shared online.
In the set, Metallica can be heard performing 'Harvester of Sorrow', 'Leper Messiah', and of course 'Whiskey In The Jar'. Check out footage of this performance below.
Metallica have recently finished off the European Leg of their M72 Tour, which concluded with a live performance in Sweden over the weekend.
Their next show will take place in New Jersey's MetLife Stadium in East Rutherford on August 4. More information on these dates here.
Metallica To Release Music Videos Using Sign Language
Back in April, Metallica also became the first band to release 12 music videos from their latest album '72 Seasons', using American Sign Language.
The album shows Metallica joining forces with ASL interpreting company Amber G Productions, and DPAN (Deaf Professional Arts Network).
This came following a reported increase in sign language interpreters when making major concerts and music festivals accessible to fans suffering with hearing loss. More on this from Nova here.
In May, their drummer Lars Ulrich also spoke about how Metallica came up with the idea behind creating the 'Snake Pit' standing only area for their fans ahead of this tour.