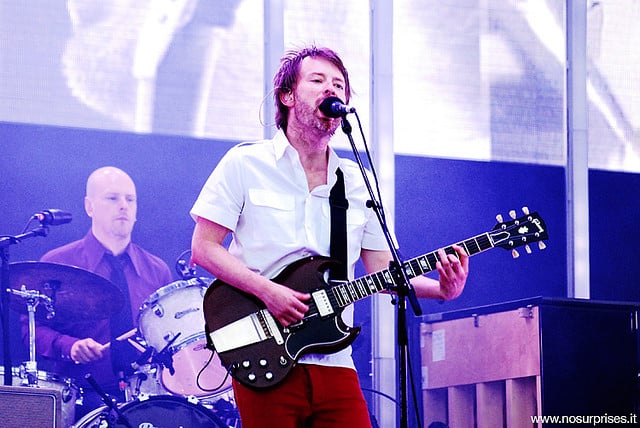 Radiohead frontman Thom Yorke has played three new songs at a gig in Japan. Yorke was joined by Atoms For Peace and Radiohead producer Nigel Godrich at Zepp Namba Osaka in Tokyo last night.
Yorke played a number of different tracks from his solo repertoire, including songs from his most recent album Tomorrow's Modern Boxes which released last year. Yorke also played a number of different songs from his LP Amok which released in 2013 and his solo debut The Eraser.
At the gig in Tokyo last night Thom Yorke also played three new tracks : 'Impossible Knots', 'Not The News' and 'Traffic'. It was only his second show after his recent performance at the Latitude Festival in England.
Thom Yorke also recently announced that he will be composing new music for a production of Harold Pinter's Old Times in New York. Yorke said of his involvement that "I've enjoyed exploring through music the script's themes of love and memory as well as Pinter's rhythms, twists and turns."
Director Douglas Hodge praised Yorke saying "The music Thom has written for Old Times gives an immediacy and a 'nowness' to the show," adding that "The play itself is about memory and love – Thom's music works backwards and forwards and plays with time and repetition in the same way Pinter does."


Photo Credit: Alessandro Pautasso