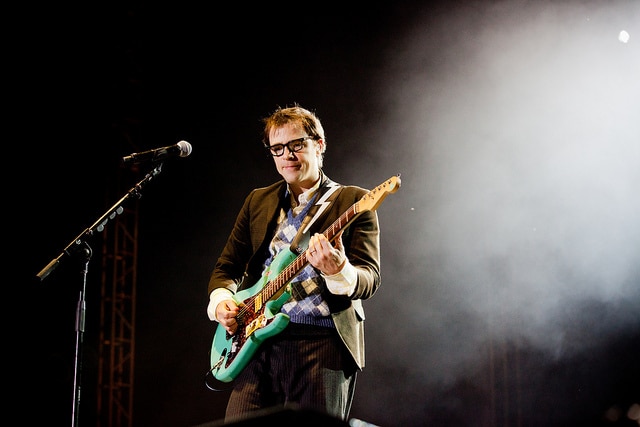 Weezer have released a video for their new single 'California Kids'. The band recruited the guys behind the recent viral video sensation 'Damn, Daniel!' for their music video.
The original video clip showed a high school pupil Daniel being complimented on his white shoes. In the 'California Kids' video by Weezer they say "Damn, Rivers. Back at it again with the Ray Bans!"
Also in the new 'California Kids' video, Rivers Cuomo gets covered in food as they recreate the band's video for 'L.A. Girlz'.Weezer have a history of recruiting internet stars for their videos.
Weezer previously recruited some of the biggest You Tube stars for their video 'Pork and Beans' back in 2008.  The video included the likes of 'Chocolate Rain' singer Tay Zonday and Chris 'Leave Britney Alone' Crocker.
Both 'California Kids' and 'L.A. Girlz' appear on Weezer's new, self-titled album. Weezer is the band's latest self-titled album and is being dubbed The White Album by fans thanks to its all-white cover. It follows similar themed albums (blue, green and red) already release by the band.
The album will release on April 1st and also includes the singles 'Do You Wanna Get High?' and 'Thank God for Girls' which the band previously released. You can check out the video for ' California Kids' down below.
Photo Credit: Brian Bruemmer