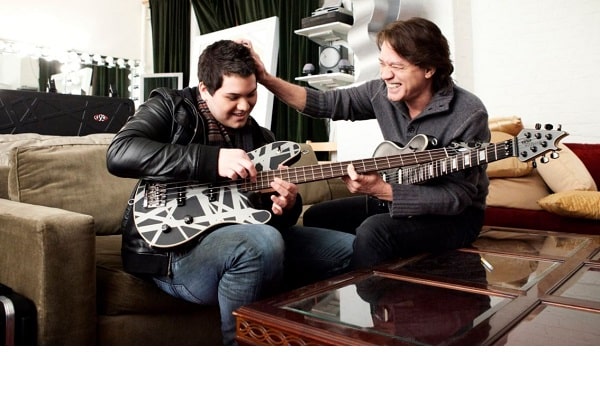 On the first anniversary of his death, Eddie Van Halen's son Wolfgang paid tribute to his father. Eddie Van Halen passed away after a long battle with cancer in October 2020.
Wolfgang was bassist for his father's band since 2006.
It was also reported that a new book  Eruption: Conversations with Eddie Van Halen which is based on over 50 hours of conversations had between Van Halen and two former editors of music magazines Chris Gil and Brad Tolinksi, would arrive in the UK this month.
The book reportedly "highlights his greatest triumphs as a ground-breaking musician. Including an unprecedented dive into Van Halen's masterpiece 1984. It takes an unflinching look at Eddie's early struggles as a young Dutch immigrant unable to speak English, which resulted in lifelong issues with social anxiety and substance abuse". 
Find out more about the book here.
"it's really f*****g" hard" – Wolfgang Van Halen pays tribute to his father
On the anniversary of his death, Eddie's son Wolfgang paid this emotional tribute.
He wrote that he was "trying to my best here without [Eddie], but it's really fucking hard".
He continued, "You fought so hard for so long, but you were still taken away," Wolfgang wrote, "It's just so unfair". 
"I'm not OK. I don't think I'll ever be OK. There's so much I wish I could show you. So many things I wish I could share with you. I wish I could laugh with you again. I wish I could hug you again. I miss you so much it hurts".
"I love you with all of me heart, Pop. Watch over me". 
— Wolfgang Van Halen (@WolfVanHalen) October 6, 2021
Along with Wolfgang, former bandmate of Van Halen, David Lee Roth also paid tribute to him recently.
"He's either in heaven raisin' hell. Or he's in hell, consequently in heaven". 
"Read into that as you wish. And he would have me say it just like that. And I carry on that spirit deliberately", Roth told US Weekly. More on that here. 
Back in March, Black Sabbath's Tony Iommi also paid tribute to his close friend Eddie Van Halen. More here.