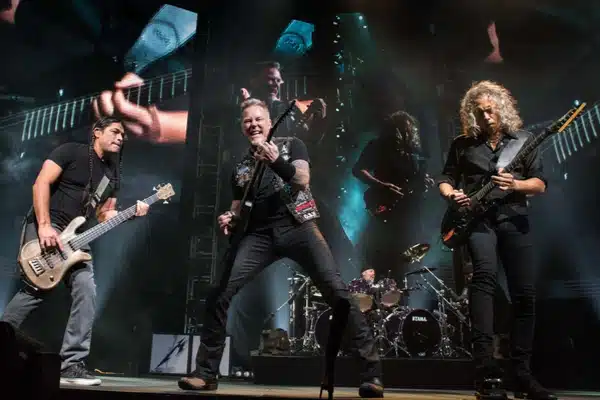 A Metallica concert has just been added to the list of strange places for a woman to give birth.
Two day old baby Luan Figueiró was born whilst the band were performing live in front of a crowd at the Couto Perreira stadium in Parana. The baby's mother has also claimed that he arrived whilst Metallica were playing 'Enter Sandman'.
What about that for a start in life?
"very crazy"
The child's mother Joice M Figueiró bought tickets for this long awaited show three years ago.
She also revealed that she was 39 weeks pregnant and was sitting in a special area of the show, when she began to have her contractions.
The original plan was to take her to hostpital in an ambulence. However, "there was no more time". 
Ms Figueiró later revealed that her child was "born right there" as Metallica were playing 'Enter Sandman' at the concert.
She also confirmed that baby Luan "came to the world on 07/05/2022 at 23:15, shaking all the metal structures". 
Having joked that she would name her child after one of the Metallica bandmembers Lars Ulrich or James Hetfield, she also added, "The whole day was very crazy".
Ms Figueiró also thanked people for writing messages of support.
"I'm great physically and trying to understand how this happened", she said. "Thank you for everyone's love and concern". 
See Ms Figueiro's Instagram post in full here.
Metallica Enter Summer 
Back in February, Metallica confirmed that they would be playing a pair of stadium shows in the US this Summer.
The band will take to the stage at New York's Highmark Stadium in Buffalo on August 11, before hitting Pittsburgh's PNC Park three days later on August 14.
Metallica confirmed this news via their Twitter account.
"We're coming to Buffalo & Pittsburgh in August! Tickets go on sale Friday, March 4 at 10 AM EST with travel packages available for Pittsburgh", they wrote. More on this report from Nova here.