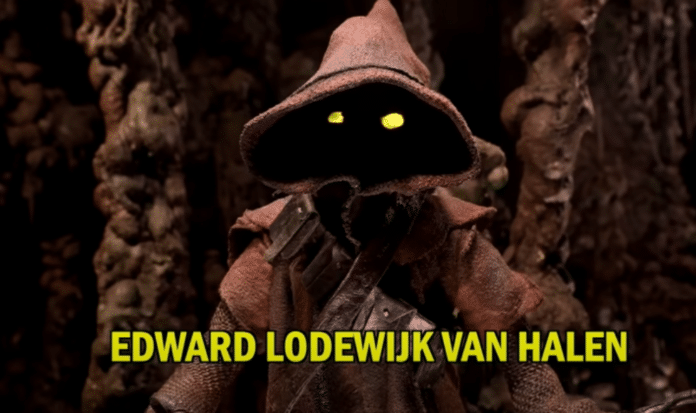 A Youtuber has managed to craft an animated video of a JAWA from Star Wars rocking out to Eddie Van Halen's track "Eruption". What a week this has been for internet phenomenons, between Practicing Buddhists covering AC/DC, sharks resembling Donald Trump, and now this! The internet can have its plus points!
Thomas J. Yagodinski is the Youtuber and self proclaimed "art nerd" that you can thank for this piece of genius. He released this clip on January 23.
The video clip shows JAWA annoucing his presence before going on to get stuck in a guitar rift. "Edward Lodewijk Van Halen was a virtuoso, innovator, intergalactic legend," the hooded creature says in subtitled jibberish.
Jawa also said, "Rumors exist of his origin in this galaxy. Once I scavenged an artifact," the creature continues, referring to Van Halen's signature 'Frankenstrat' guitar. "I study and learn in deepest tribute. I will now perform for you, 'Eruption'. Hit the lights". 
The legendary Eddie Van Halen passed away in October 2020 after a battle with cancer. There had been a campaign run to get Eddie's son Wolfgang to replace his father in the band. This was dismissed by Wolfgang.
"You can't have Van Halen without Eddie Van Halen, because I'm not Dad", Wolfgang said on The Howard Stern Show.
Eddie Van Halen clip was "insanely fun to make"
In a post on Instagram, Yagodinski described this unique clip as "insanely fun to make".
He added, "This was insanely fun to make, especially taking the solo apart, frame by frame, to replicate as closely as possible to the actual shredding. Plus, I flippin' love Jawas!! RIP to the maestro, may his music live throughout the galaxy".
Click here to check the piece for yourself.