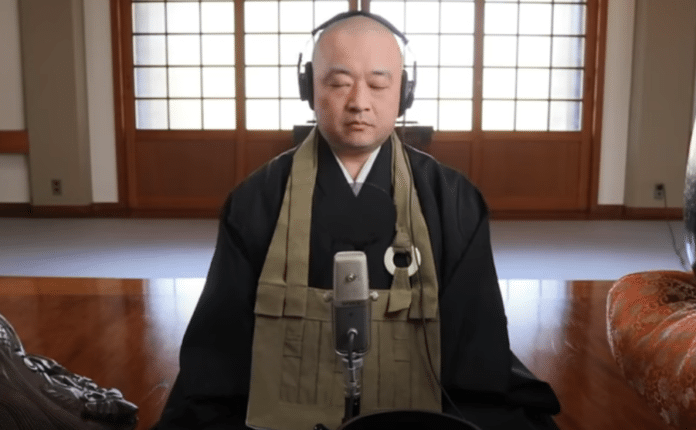 A practicing Buddhist monk who does music covers surely counts as one of the plus points of the internet! Two things that probably do not usually merge together. But if you're Kazutaka Yamada, the two things go together like peas in a pod.
Buddhist monk/Youtuber Kossan1108, Yamada has a fairly unique approach to meditation, you might say. The musician has been using his traditional percussion instruments to produce covers of well known rock songs. These have included "Breaking the Law" by Judas Priest, "Yellow Submarine" and "All My Loving" by The Beatles, Queen's "We Will Rock You" along with "Enter Sandman" by Metallica and "Teenage Lobotomy" by The Ramones.
You can watch his covers of Metallica's "Enter Sandman" here, and Judas Priest's "Breaking the Law" here.
Yamada's latest track:
This time, Kazutaka Yamada put his talents to work on AC/DC's "Thunderstruck". Yamada's cover of this track begins with his quiet contemplation of the opening riff. He then goes on to give Brian Johnson a run for his money for the vocals, while banging on metal gongs and a wooden drum.
When the song concludes, Yamada puts down his mallets, removes his headphones before mediating for the next 3 minutes. Amazing!
You can watch his cover of AC/DC's Thunderstruck here. 
In other news, long lost recordings from AC/DC frontman Bon Scott were recently unveiled. The recordings are from Scott's work pre AC/DC with the band "Fraternity". Scott worked with the band from 1970-1973, before moving on to AC/DC.
The recordings were collated between historian and music promoter, Victor Marshall, their manager Hamish Henry and the remaining band members.
A statement read, "This project could not have been possible without the generosity of the band (Bruce Howe, John Freeman, John Bisset, Sam See, Mauri Berg, Uncle John Eyers & Tony Buettel) and the band's original manager Hamish Henry,".
The statement continued, "I hope that all the members of Fraternity will finally receive the recognition they deserve and have their real story told".