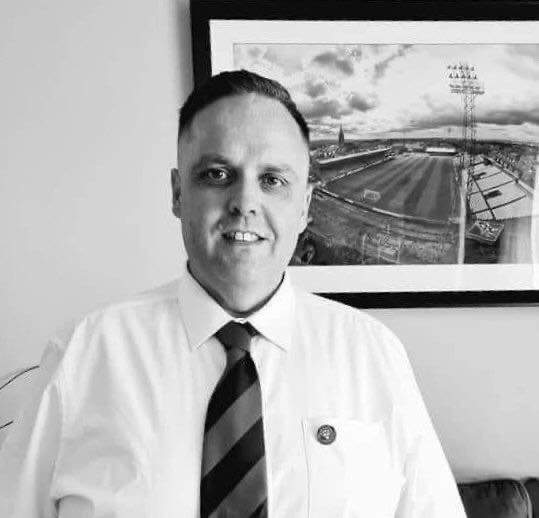 Waking up this morning to a plethora of notifications about the tragic news of Mono stunned me!
A text from PJ Gallagher and a shuffle through Twitter, tears began streaming down my face.
Everyone involved at Bohemians Football Club are in mourning today as long time clubman Derek Monaghan has passed away.
❤️🖤It was with absolute devastation that we last night learned of the tragic passing of our dear friend Derek Monaghan, known to all simply as Mono: https://t.co/RTptvmoMTI pic.twitter.com/dv0GxKfbDT

— Bohemian Football Club (@bfcdublin) August 18, 2022
Absolutely shocked at the news.. RIP Mono.. A true Bohs legend and a gentleman! Will be missed sorely ❤️

— Dinny Corcoran (@Dinny_Corcoran) August 17, 2022
Devastating news, Rest in peace Mono🙏🏽😪 A true bohs legend who always had time for everybody that walked into dalymount, he will be sorely missed by absolutely everyone involved with the club. ❤️🖤 https://t.co/hKdGKTOFkg

— Danny Grant (@dangrant99) August 17, 2022
Over the space of the last decade, I have had the pleasure of knowing him. Perhaps not as well as others, but anyone who had the pleasure of his company was the better for it.
As Bohs fan all my life and with an interest in radio sports broadcasting, I became involved in my local community radio station when I was 15. At the time, the FAI would not have give me a media pass.
An email to the club led to help from Derek, who'd just wave me into Dalymount on Friday nights. When the club were last crowned League of Ireland Champions, he made sure I was looked after for post match interviews and general access.
Waking up to awful news this morning – Am heartbroken to hear about Mono! He was the beating heart of Bohs, involved in just about everything! I was 16 when I was first getting into reporting at games and he could not have gone out of his way more to help me! RIP Mono! 🔴⚫️

— Daniel Pitcher (@DanPitchside) August 18, 2022
To get a true sense of what Derek meant to everyone, a scroll through Twitter will tell you all you needed to know about the man.
Sickening news, A lovely lovely man 😔😔. Dalymount won't feel the same. God bless you Mono 🔴⚫️

— Derek Pender (@Detser) August 17, 2022
We lost a legend tonight, Mono would go out of his way to help anyone, he was the heart and soul of the club the man was always trying to improve the club der wasn't a week that went buy that he would ring and say colly should we do this.
RIP MONO ❤🖤

— Colin O Connor (@CollyOConnor24) August 17, 2022
A proper Bohemian! Always the first & last face you'd see on match night. Working tirelessly for the club. Heartbraking news tonight, RIP Mono❤️

— Paddy Kirk (@Paddy__Kirk) August 17, 2022
Whether it was with the club shop, sourcing tickets for fans, helping arrange big birthdays in the clubs bars,  and Christmas parties for kids, there was very little that he was not involved in.
Senior team kitman Colly aptly put it, that he was heartbeat of the club.
I was with Mono this morning,he was up to his eyes in the club,running around doing 20 things,taking in orders,answering calls,looking after the shop,showing tourists around Dalyer,smiling as he did it all,he loved it,the club was in his heart & soul,he was the clubs heart & soul

— GL3NN (@Gl3nnC77) August 17, 2022
The club has seen plenty of dark times in the past decade, however a beaming smile as bright as the ancient Dalyer floodlights greeted everyone coming through the turnstiles at Dalymount whether he knew you or not.
A true Bohemian, it is hard to quantify just how big his loss to the club is.
The first thing I thought about waking up to this tragic news, was his very young family, to them I offer my most sincere condolences.
Mono thank you for everything! RIP