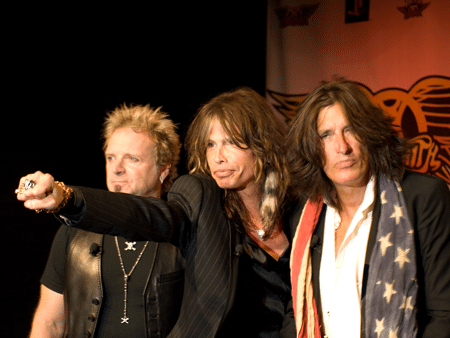 Aerosmith are to resume their tour without drummer Joey Krammer, with a concert in Washington state.
It was reported by TMZ that Krammer had suffered 'heart-related complications', and that the sixty-four year old drummer, would undergo heart surgery.
Aerosmith posted an update on their website refuting the claims, saying Joey had undergone a "minor medical procedure," and that the drummer had "no history of a heart condition."
Krammer said, "I'm feeling better than ever and I'll be back sitting in the best seat in the house, hitting it harder than ever for our amazing fans. My gratitude and thanks for all the love and support showered on me during this time. #LetRockRule."
Joe Perry tweeted that Joey was, "doing great and will be back soon." He aslo tweeted that the band had been rehearsing for two days with Krammer's son, Jessie Krammer. Jessie is also a drummer and will be filling in for his dad until he returns.
To everyone who's been so concerned about Joey in case you haven't heard he's doing great and will be back very soon. Thanks for asking.

— Joe Perry (@JoePerry) August 16, 2014
I will miss Joey tonight but looking forward to playing with his son Jessie Kramer who's a kick ass drummer! — Joe Perry (@JoePerry) August 16, 2014
Joey's wife Linda, @MrsKramedog took to Twitter to confirm her husband had undergone a procedure on his heart. She said the whole procedure had been blown out of proportion, and that Joey was "NOT undergoing emergency open heart surgery."
Media blowing out of proportion The truth is Yes my husband @joeykramer is in the hospital having a procedure related to his heart

— Linda (@MrsKramedog) August 14, 2014
Aerosmith are currently on tour with former Guns N' Roses guitarist Slash, with tour dates leading up to mid-September.