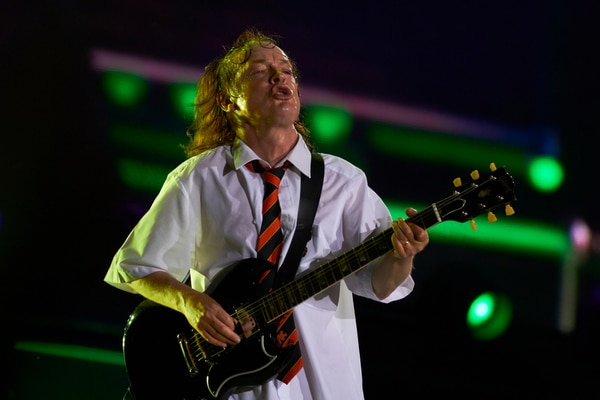 AC/DC co-founder and lead guitarist, Angus Young spoke with Matt Pinfield on the latest instalment of "New & Approved" on 95.5 KLOS. Connecting via video call from his studio in Australia, the rocker discussed how late AC/DC singer, Bon Scott first met Brian Johnson in the early 1970s. Scott thought Johnson was the best singer he had seen "in a long time".
Albeit for separate bands, the pair toured the UK together in the early seventies, not long before Bon joined AC/DC in late '74. Speaking with Matt, Angus told of how Bon was blown away by Johnson's performance when his band opened up for Johnson's Geordie.
"They were gigging away, and as Bon told the story, he was saying he was listening to GEORDIE performing and listening to Brian, and then he heard this screaming," recalled Angus. "He said it sounded great — he said it sounded like Little Richard was on the stage. He said this guy [was] howling and yelling.
"And then he said then he saw the guy on the floor. Bon thought it was great. It was the best act he had seen, and a singer, in a long time," chuckled Angus. "But what he didn't know, afterwards he found out, Brian had an attack of appendicitis. But Bon thought it was part of the act. He thought, 'This guy is incredible.' 'And he was still hittin' these high notes'."
Angus' fellow rocker, Brian Johnson previously spoke about crossing paths with Bon Scott, where he too recalled his "terrible case of appendicitis". He said, "I went down on my side, kicking and going, 'Ooh!' But I kept on singing. Apparently, he told the boys when he joined AC/DC, 'I saw this guy Brian Johnson sing, and he was great. He was on the floor, kicking and screaming — what an act!' Of course, it wasn't an act. I was really ill."
Scott was invited to join AC/DC by Malcolm and Angus Young in 1974. He achieved international stardom with the band, before his death at the age of 33 from alcohol poisoning. Scott sang on AC/DC's first six studio albums, including High Voltage, Dirty Deeds Done Dirt Cheap, Let There Be Rock and Highway To Hell.
Scott died of acute alcohol poisoning after a night of heavy drinking at a club in London. It had been just days after attending a session with Malcolm and Angus Young, where they began working on music for what became the Back In Black album.
Recently, Angus Young revealed that he came up with the song "Highway To Hell" while sitting on the toilet. The guitarist said in a recent interview that the premise for the track came while he was having a bathroom break.