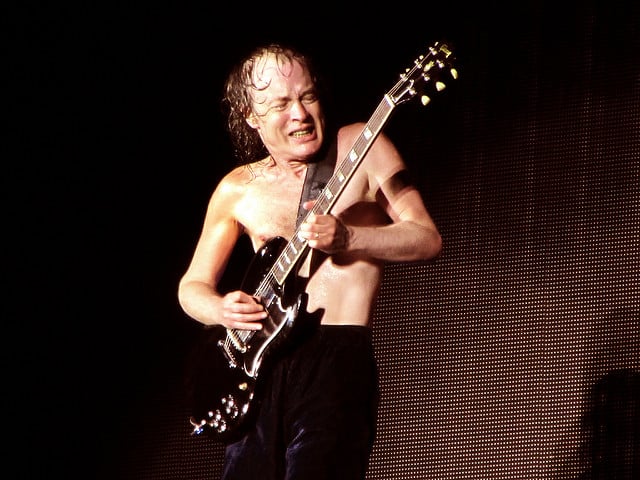 AC/DC guitarist Angus Young has said he is unsure what the bands next move will be once their current tour has ended. The bands lineup has experienced quite a bit of turbulence in recent times with three longstanding members being forced to drop out.
Singer Brian Johnson's risk of permanent hearing loss lead to his retirement, while Malcom Young, brother of Angus departed the band in 2014 after he was diagnosed with dementia. Drummer Phil Rudd was under house arrest after he was convicted of drug possession but claims he's ready to return to work if his ex-band members will accept him.
Young addressed some of the bands issues in a interview with Rolling Stone, speaking of Cliff Williams planned departure at the end of the 'Rock or Bust' tour he said, "Cliff made it known before we'd even started touring, this would be his last".
While he also admitted Johnson's departure was expected, "He was having problems when we were rehearsing for Coachella. He already had one bad ear…Each show he did, he had to get monitored and treated. But it was becoming too hard for him".
When asked if he thought the band should have quit when his brother couldn't continue he explained, "Malcolm was always one to battle through". He also admitted "it's hard to communicate" with his brother who is suffering from dementia, "I do pass on messages. I can't be 100% sure it goes in there. But I let him know there are a lot of people missing him".
For now his own position on the bands future is very up the air, "At this point, I don't know. We were committed to finishing the tour. Who knows what I'll feel after? When you sign on and say, "I'm gonna do this and that," it's always good to say at the end of it, "I've done all I said I would do".
AC/DC's tour restarts this August 27 in Greensboro and ends in Philadelphia on September 20.
Photo Credit: Edvill