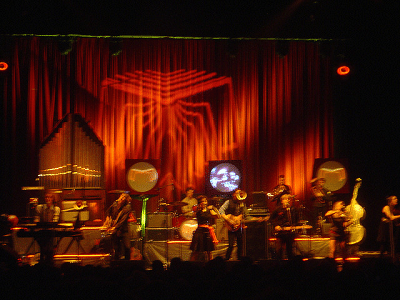 Arcade Fire kept up their tradition of covering local musicians from the city they're playing in.
This time during a concert in Boston, Massachusetts, the Montreal band covered the Pixies' track Alec Eiffel.
Alec Eiffel is a song that references the French engineer Alexandre Gustave Eiffel, who designed the Eiffel Tower and the Statue of Liberty. It's the third track on their 1991 album Trompe le Monde.
It's a continuation of what seems like a ritual, on the Reflektor tour. So far on their world tour, Arcade fire have covered, Echo and the Bunnymen in Liverpool, Creedence Clearwater Revival's Hey Tonight in California and the Canadian group were joined on stage by Blondie to play the track Heart of Glass.
Arcade Fire also covered Sinead O'Connor's Nothing Compares 2 U, when they played Dublin's Marlay Park back in June and were supported by Pixies.
The Canadian rockers donned their giant paper mache heads during their performance, giving a shout out to Boston-based charity Partners in Health. Lead singer, Win Butler, exclaimed to the crowd, "it's the coolest thing that came out of Boston, aside from the Pixies," he said.
Arcade Fire surprised fans last week with a new music video for their song You Already Know. You Already Know, is the fourth single to be taken from the double album Reflektor. Watch the video on Nova's website here.