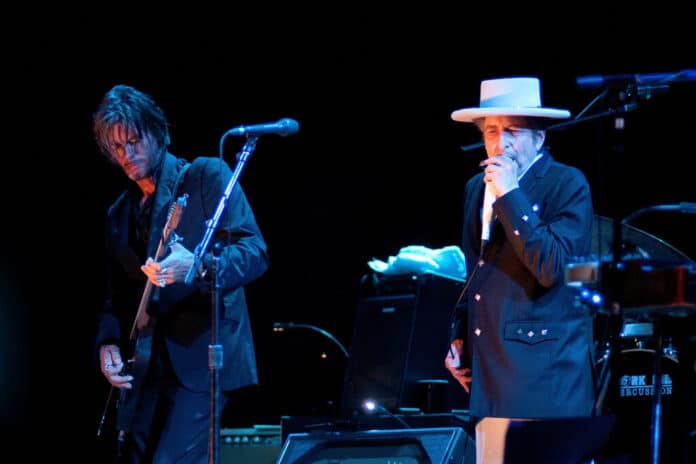 Australian TV show, 'Today' has had to apologise after it mistakenly announced the death of Bob Dylan.
The breakfast show was covering a story about the Dylan's documents being auctioned off in Boston for $495,000. However, an on-screen banner read "LATE singer's documents sell for $495 thousand," resulting in host Richard Wilkins apologising to their viewers.
"We need to make a correction now," he said after the broadcast. "About half an hour ago on our entertainment chat, we incorrectly ran a banner on your screen about Bob Dylan. It was false and we apologise for any confusion."
The same mistake was made by news channel, MSNBC when host Richard Lui said on Saturday that " Dylan dying last year at the age of 79. " Later in the This Week with Joshua Johnson, the host corrected the record and apologized for the error.
Unpublished Dylan Lyrics Sold At Auction
Unpublished lyrics written by Dylan were among the documents sold at the auction. Letters between Dylan and late American blues musician Tony Glover and transcripts of interviews between the two were also included.
Glover previously owned the collection, with the majority of the separate lots bought by an unnamed bidder.
In the transcribed interviews, Dylan speaks about how antisemitism influenced his decision to change his name from Robert Zimmerman. The singer says: "A lot of people are under the impression that Jews are money lenders and merchants."
Dylan's 1969 track Lay Lady Lay was revealed to be originally wrote for Barbara Streisand. Some of the lyrics included lines Dylan wrote after visiting Woody Guthrie.
In other news, Paul McCartney has revealed his appreciation for Bob Dylan by saying he wishes he "was a bit more like" him.
McCartney was talking to Uncut magazine as he features on their front cover this month. The former Beatle was asked for his opinion on the latest album of Dylan, 'Rough and Rowdy Ways'.
"I always like what he does. Sometimes I wish I was a bit more like Bob. He's legendary… and doesn't give a shit! But I'm not like that. His new album? I thought it was really good. He writes really well. I love his singing – he came through the standards albums like a total crooner. But, yeah, I like his new stuff."