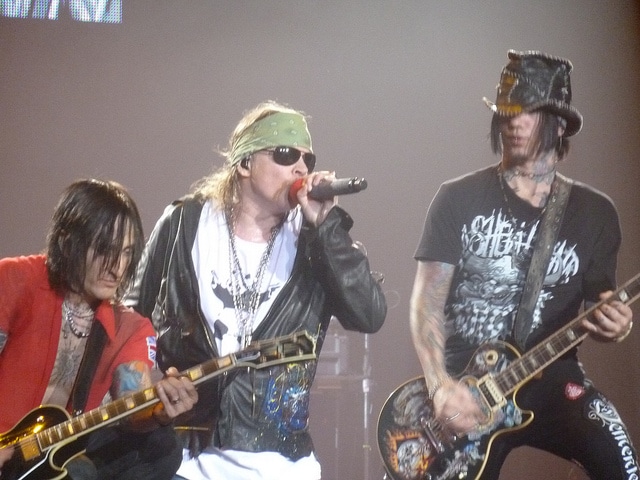 Guns N' Roses members Axl Rose and Duff McKagan have given their first interview about the band's reunion.
The pair talked to Brazillian tv show, Fantastico, and the frontman discussed the band being brought back together "Actually, it had a lot to do with Paul Tollett of Coachella. He started talking about [booking a reunion of the classic GUNS N' ROSES lineup for his festival]. It seemed real. So at that point, I just told my people that they could go ahead and start talking to people and see what's going on.",  adding "It started with talking about Coachella, but at the same time that those talks were starting, there were people involved with Coachella — agencies and things — so they were having these conversations about what they could possibly do or not. So it was all being considered." 
Axl Rose is currently on tour with AC/DC, where he is stepping in for Brian Johnson. In the interview, the musician talks about how long he intends to tour with AC/DC "I'll do that as long as Angus [AC/DC]  wants to do it and as long as… and we can make it work. GUNS is really supportive about it. I love that it's my job. I love that Angus is my boss. And singing the early Brian [Johnson] songs — the first couple of albums with Brian — those are something else to sing, so it's physically a different animal and another kind of work. And I take pride in doing it. And it's a hard thing in its own way. So after this [GUNS N' ROSES' North American tour], there's a few days [off], and then I'll do another ten shows with AC/DC. And after that, it's kind of, whatever Angus wants to do."
Guns N' Roses are set to play South America in Autumn, before heading to Japan, Australia and New Zealand in 2017.
Photo Cred: Carlos Valera