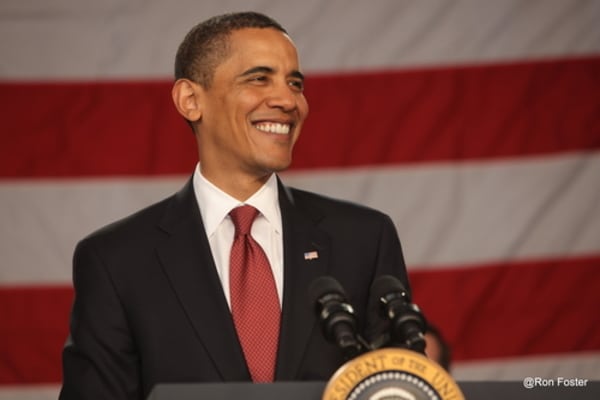 The former American President has revealed his summer jams for 2021.
The 38-song list features artists from a range of genres, including Bob Marley, Migos, George Harrison and Joni Mitchell.
Ever since entering the White House in 2009, Obama has been sharing annual lists of his favourite music, movies, books and TV shows.
Obama posted his summer 2021 playlist on Twitter, writing "With so many folks getting together with family and friends, there's a lot to celebrate this summer. Here's a playlist of songs I've been listening to lately – it's a mix of old and new, household names and emerging artists, and a whole lot in between."
The list sees classic artists like Sarah Vaughan, Ella Fitzgerald and Louis Armstrong take their place alongside new acts such as Migos, H.E.R and Jazmine Sullivan.
Last December Obama dropped his favourite music of 2020 list, though he admitted he had some help from his daughter Sasha in compiling the list.
"Here are some of my favorite songs of the year. As usual, I had some valuable consultation from our family music guru, Sasha, to put this together. I hope you find a new song or two to listen to," he captioned the list on Twitter. Featured on that list were Bad Bunny, Bob Dylan, Bruce Springsteen, Dua Lipa, Lil Baby, Megan Thee Stallion and more.
To coincide with the release of his political memoir The Promised Land last November, Obama released a playlist of songs that inspired him during his time in the White House.
"Music has always played an important role throughout my life, and that was especially true during my presidency," the 43rd President of the USA wrote on his Instagram. "While reviewing my notes ahead of debates, I'd listen to Jay-Z's 'My 1st Song' or Frank Sinatra's 'Luck Be a Lady.' Throughout our time in the White House, Michelle and I invited artists like Stevie Wonder and Gloria Estefan to conduct afternoon workshops with young people before performing an evening show in the East Room. And there were all sorts of performances I'll always remember — like Beyoncé performing 'At Last' for our first dance at our inauguration or Paul McCarthy serenading Michelle in the East Room with, 'Michelle.' So in honor of my book, A Promised Land, coming out tomorrow, I thought I'd put together a playlist with some of those songs. Hope you enjoy it."
Similarly diverse, that playlist featured the likes of Beyonce, Frank Sinatra, Stevie Wonder, U2, Jay-Z and Gloria Estefan.
Earlier this year Obama appeared on the podcast Renegades: Born in the USA with Bruce Springsteen. On that occasion he took the opportunity to share a playlist of songs he likes to sing in the shower. "I sing in the shower, I sing outside of the shower. I am unembarrassed about singing," he joked. "My daughters and my wife sometimes roll their eyes."
Listen to Barack Obama's Summer 2021 Playlist via Spotify below.
With so many folks getting together with family and friends, there's a lot to celebrate this summer. Here's a playlist of songs I've been listening to lately—it's a mix of old and new, household names and emerging artists, and a whole lot in between. pic.twitter.com/xwTPun9wsw

— Barack Obama (@BarackObama) July 10, 2021