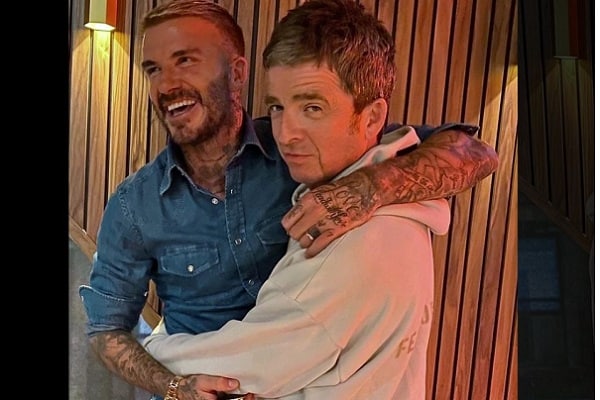 David Beckham aimed a sly dig at Noel Gallagher as the pair met up at the premiere of the Oasis concert film Oasis At Knebworth. 
During the 1990s, David Beckham was playing at Manchester United winning trophies year in, year out. While Noel Gallagher who supports United's bitter rivals Manchester City was riding high in the British music charts alongside estranged brother Liam with Oasis.
There was a warm embrace between the pair when they sat down to watch the premiere of Oasis At Knebworth. This film celebrates two iconic gigs that Oasis did at the famous venue in August 1996. The shows broke records for gig attendance and people attempting to buy tickets.
It was also directed by Jake Scott.
"Took me right back to the good old 90s" – Beckham's dig at Gallagher
Taking to Instagram, Beckham wrote, "What a great film mate…Oasis at Knebworth 1996…Absolutely loved it…Took me right back to the good old 90's when United were winning everything". 
Reflecting on the documentary, Noel himself said, "I was so f***ing arrogant at the time that it didn't really register. Genuinely. It's only since Supersonic (Oasis's 2016 documentary) and this film that you try and put yourself back in there and you get goosebumps". 
"I'm not sure there are any bands who had that lift-off like we did. We were still in the same circumstances as our audience, almost. It is a snapshot of a band, of its zenith. It is a great moment for the band".
Gallagher also added, "Morning Glory (Oasis's second album, in 1995) hadn't really taken off. We were loaded but we hadn't really got paid. You know, the f***ing chimps hadn't turned up and tigers and fur coats". 
Last month also saw the release of the trailer for Oasis At Knebworth. Check that out here.
Meanwhile, Noel Gallagher has also recently said that he is keen to release an album of reworked Oasis classics. 
Liam on the other hand also had to cancel his upcoming gig at Belfast. He suffered facial injuries after falling out of a helicopter.