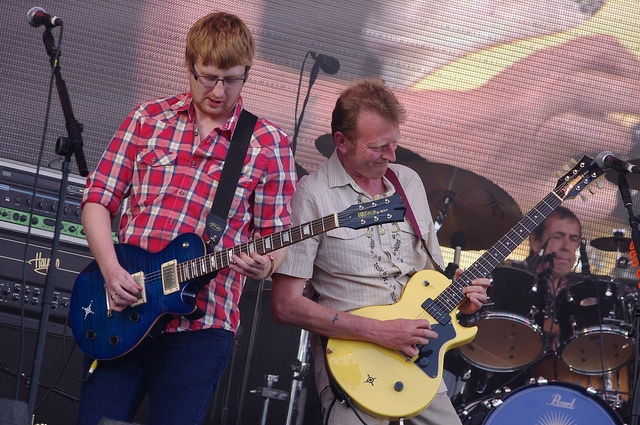 The Crossing is the debut album from Scottish band Big Country and it released on the 15th of July 1983. The album spawned the band's only top 40 hit in the US with 'In A Big Country'.
With producer Steve Lilywhite at the helm, Scotland's Big Country managed to deliver earnest, socially conscious arena anthems in a similar vein to U2 and The Alarm. The twist was their trademark bagpipe sound, achieved through the use of E-Bow.
The unique sound of "In a Big Country" garnered the band considerable attention and a Top 20 single in the U.S. The Crossing, however, is an album whose richness goes beyond the single. The more subdued 'Chance' is sparser and its personal lyrics are every bit as heartfelt as the more populist-inclined anthems like the wonderful 'The Storm' or the thundering 'Fields of Fire'.
The lyrics are straightforward and, despite the grand themes of many of the tracks, manage to steer clear of being overly pretentious. While this album earned the band a gold record, Big Country's sound and image (reinforced by the members' tartan checked shirts) resulted in them being tagged a novelty, and they never duplicated their initial success in America.
The Crossing is not without flaws: the tone setups cause the guitars to lapse into murk at times, subverting the power of the playing, and the lyrics are occasionally so private–or so poorly thought out–as to be inscrutable. But the big sound is truly unique, and the best songs speak to real subjects.
Tracklist:
1. In A Big Country
2. Inwards
3. Chance
4. 1000 stars
5. The Storm
6. Harvest Home
7. Lost Patrol
8. Close Action
9. Fields of Fire
10. Porrohman
Photo Credit: Rob Glover